How Is My Gold Jewellery Made?
Reading Time:
9
minutes
Jewellery manufacturing requires much skill and time to get it right. It's an art form that needs the combination of technique and concentration to stroke the metal in a precise way to give it the finish needed. Intricate designs could sometimes take months to even years to perfect, which is why designer jewellery incorporating heavy designs with foliage and minute details come at a price.
[This photo has been temporarily removed]
Some of our designer pieces where you can see our workmanship are the Uber Grazie ring and the beautiful black pearl earrings.
We work on numerous types of jewellery and thus have specialized craftsmen who make gold ornaments and are well versed in their respective art. With such a strong backbone, we are able to manufacture these intricate designs very quickly without any errors. Jewellery making across the world has reached a stage where these days all the latest technology in jewellery manufacturing is being used. These new-age techniques help manufacturers like us save a lot of time on every piece as compared to traditional jewellery manufacturers who still haven't adopted the newer ways. Depending on the type of jewellery that we are making, all ordered jewellery goes through the hands of numerous craftsmen before they are ready and dazzling.
Back in the day jewellery was made entirely by hand, metals were moulded to shape and the setting of gemstones was done painstakingly by hand. These days with the advancements in technology, bench jewellers and artisans are equipped with multiple machines and technologies to help them craft each one of their masterpieces which in turn reduces the turnaround time of a single piece.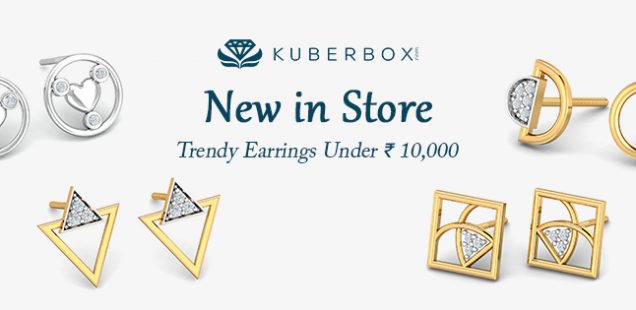 Each jewellery piece is conceptualised by our talented designers who have to bear in mind all the various manufacturing techniques to be able to get the best out of both worlds. Well versed in the subject, all our designers have experience and knowledge in jewellery design and manufacturing, which enables us to be innovative with our designs and gives us an opportunity to constantly modify our stock.
[This photo has been temporarily removed]
As with everything, even jewellery starts off with an idea. We take our inspiration from different fields of life. From the kitchen to the leaves on a tree, it could be anything to give us the vision to eventually form. For example, a pendant we have in our collection, Kitrino Gold Pendant, gets its inspiration from the leaves of a plant.
There are numerous ways by which jewellery is manufactured today, which we regularly cover in this Blog, so do read on to find out more about the journey your jewels take before they reach you. You can also sign up for our newsletter if you'd like to be updated about newer additions to this blog.
Hand Made Jewellery
Hand made jewellery is made even to this date. The "Karigars" as they are known in India make an entire piece of jewellery by hand with little help from modern day techniques, the perfect amalgamation of the old and the new. They sit patiently moulding each gold bar from a bar to the final form by constantly heating and cooling, which gradually gives shape to the metal.
We manufacture our jewellery across three different facilities and depending on the type of jewellery, the manufacturing gets assigned to one of these three.
Jaipur is known to be the hub for gemstones to the world and it is where we manufacture all our handmade jewellery. Our designs go to our workshop where our artisans are always ready to try challenging new patterns of jewellery. Located in the old city of Jaipur, which is famous for its workers who can craft just about anything, our craftsmen are truly the best in the business.
Now, let's begin the thorough explanation of the hand-made process. The metal being Silver, Gold or Platinum is first heated until the metal piece, which looks like a block is slowly mouldable and can be transformed. This heat restores its malleability, which is a property in precious metals making them easy to work with.
This then moves on to an iron wheel, which they call "patti". In this process the metal block is rolled under heavy wheels to make sheets or wires that make the various forms needed to make an entire jewellery piece.
Once the correct thickness has been obtained, it is moved to the karigars table to make a "supti" or base. This supti is generally the collets, rings, links, shanks, bands etc., which will finally hold the gemstone or be part of the design. Most of the elements for the final jewellery piece are made at this stage and are then soldered together. If your wondering what soldering means, it is the process by which the metals pieces are almost glued together although using metal and heat.
The polish is done for the small holes or filigree work, which cannot be accessed by the big polishing wheel. The piece is then cleaned in an ultrasonic machine, which removes any wax and dirt that gets stuck in places that cannot be seen. The ultrasonic waves cause the dirt to be almost shaken out of the crevices and a clean piece of jewellery.
The cleaned jewellery piece is then placed onto a "chapdi" which allows the setter to gently set each gemstone with absolute accuracy. The chapdi uses lac to grip the metal and secure it in place. The setter places each gemstone in the metal collet and then carefully adopts the preferred setting style to set each gem. We will also soon have another blog on all the setting styles used in jewellery, so stay tuned for more on our blog.
When it comes to hand-made jewellery, the quality of finished pieces depend immensely on the talent of every worker who has been involved in the making of this piece at some stage or the other. Hand fabrication gives the jeweller the freedom in terms of design and is perfect for one of a kind jewellery pieces.
Jewellery Making Using Gold Casting Process
Casting is one of the most popular methods these days by which jewellery is manufactured. Almost 80% of our jewellery is manufactured using this technique and thus we will be explaining this topic very elaborately in one of our upcoming posts. This involves large machines and Plaster of Paris or rubber, which helps in shaping the metal being used this is in our case gold or silver. Each design is hand-selected by our director after which we pass these designs to our in house CAD/CAM specialists. It starts with our jewellery designers designing the jewellery on a 3D CAD (computer-aided designing) software that allows them to transform their design into a computer file. This computer file (or a 3D design as you may call it) is then magically turned into a wax jewellery (the jewellery is made of wax material) with the help of something we call a 3D printer. Yes, right, jewellery making is that advanced these days..
In all our workshops we use both rubber and plaster of paris, as we are able to maintain designs using both. This wax jewellery is placed inside a box and then covered with molten resin (rubbery material). Once the box is filled with the resin, the resin is now pressurized and hardened. This results in the wax piece getting airlocked inside a hardened rubbery material called resin or dye. Now this dye is slightly heated resulting in the wax piece getting melted and draining out of dye, leaving a jewellery shaped cavity inside the dye. That is the exact reason it is called a dye or mould, because now this mould can be repeatedly used to create the same design very easily. This rubber mould is then cut from middle in such a way that the cavity in the center of the mould becomes easily accessible. Look at the picture below to understand this a little more clearly.
Step 1 –This is the mould which has a cavity in the shape of the desired final jewellery design
Step 2 – Liquid hot wax is injected into the mould which then cools down and settles some time later
Step 3 – This hardened wax is now separated from the mould and what you have remaining is a wax jewellery (Again)
Step 4 – Goes through a process called investment casting. Here the pattern/wax jewellery is placed inside a furnace and filled with material like plaster of paris. PoP being fluid, occupies every free are inside the furnace except the pattern shape.
Step 5 – The furnace is heated which results in PoP getting solidified while the pattern/wax jewellery melting out and leaving a cavity inside plaster of paris.
Step 6 – Now molten gold is poured inside this cavity and is then quickly cooled thus resulting in the gold metal occupying the cavity.
Step 7 – The furnace is dis-assembled, giving us waste hardened PoP and gold casted jewellery
Step 8 – Excess gold deposits on the surface of the casted pattern is polishes and what we now have is the same conceptualized jewellery made of gold.
The jewellery has now come to life and only needs some finishing and setting of the gemstones. This is the journey of gold jewellery from design to reality
Die Striking
Die Striking is another method used to manufacture jewellery. Perfect for lightweight and thin pieces of jewellery, that you will never feel it tugging at your skin. Sheets of precious metal are punched into shape by large dies that have an image or name already inscribed onto it. This is relatively an easy method to manufacture jewellery items.
The above diagram clearly explains the complete process.
Electroforming and Electroplating
Electroforming techniques uses electrically charged liquids with a precious metal infused within it to layer metal on a wax model, which can then be melted away. This technique uses layer over layer that eventually can give any desired thickness. Electroplating uses the same technique although just leaves thin layers which are measured in microns over a jewellery piece. This gives the piece a layer that can protect it from tarnish or damage.
These are some of the techniques used by KuberBox to manufacture your jewellery. You now know the path your jewellery takes to reach you.
As we mentioned we offer you the option to customize each piece you purchase with us on our website. You can email us at [email protected] or call us on our support number and request for other customization options. We look forward to serving you.
FAQ's Of How Is My Gold Jewellery Made?:
Why is jewellery made of gold?
Gold does not tarnish, rust or corrode. Due to its wonderful qualities and its luster, gold is considered the most important metal in jewellery making. As the gold is too soft for everyday wear, it is alloyed with a mixture of metals in order to make the gold harder, so it can be used for jewellery. To know more, read: How is my gold Jewellery made?
What is the process of making jewellery?
Jewellery casting is the process by which a wax pattern is made into a jewellery mold and then filled with molten metal or silver to create a custom piece of jewelry. Most jewellery that is manufactured starts off as a wax pattern. Jewellery manufacturers will take the wax pattern and use plaster to create an "invested" mold.
How Is My Gold Jewellery Made?
by
Sourav
Comments
comments