Customized Name Pendant – Why You Should Get One Made For Yourself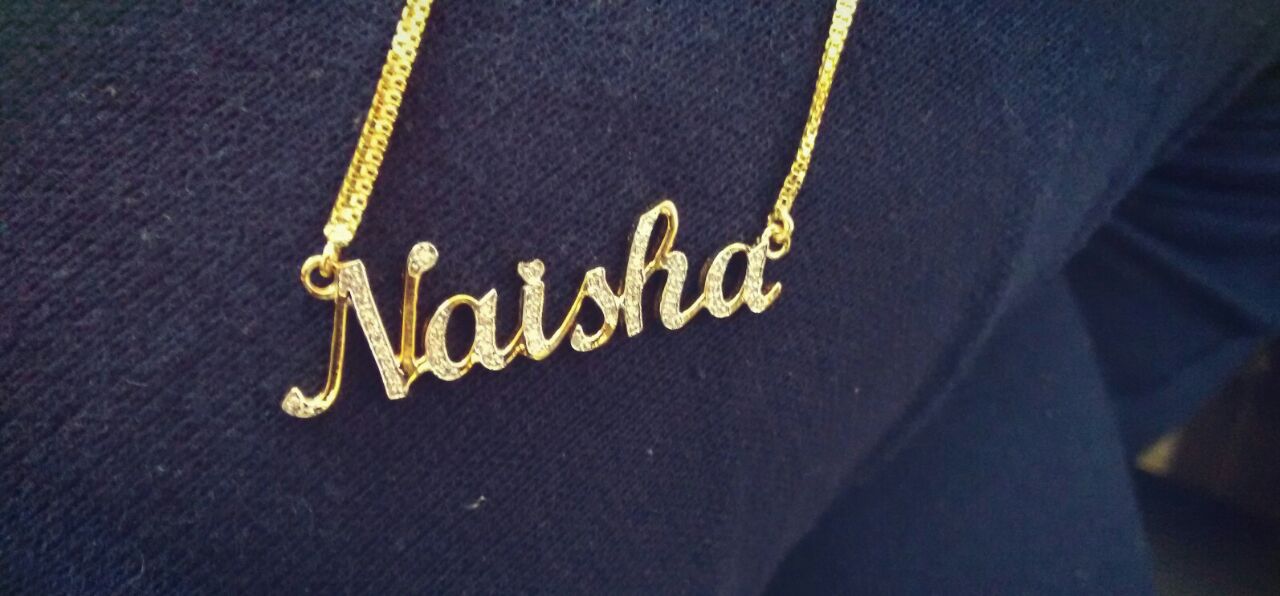 Reading Time:
6
minutes
Do you know what a "Name Pendant" is? We are sure you do. Probably you will know it when you see it. Or maybe you call it something else – "Letter Pendants", "Initials Necklace", and "Name Necklace". Don't worry if you haven't heard of it yet – we will tell you all about it shortly. And, if you already know what it is and looking to get one for yourself, you can skip directly to FAQ section.
---
Check Out Some Amazing Name Pendants
Submit A Custom-made Jewellery Request
---
For the non-starters, Name Pendants are one of the best custom-made pieces of jewellery you can wear that is designed to represent your identity. Recently, we made our first gold name pendant for one of our customers. She came up with her unique requirement and wanted her name to be made into a pendant. This isn't new & in fact, one of the best-selling concept when it comes to neckwear jewellery. But, in India, you don't see a lot of such pendants & that's why it's a great idea to wear something exclusive of this sort.
It was our first ever attempt at making a customized name pendant and thus, was a learning process for us as well. It's another matter that we have since become to go-to place in India for customized gold name pendants and we received numerous enquiries everyday. You can see some of our work in the image section below. The name that the customer wanted was TANVI and we started by showing her some design options that she could choose from. While providing her the designs, the most important thing to be considered was the practicality of the design. It was important to know from starting if the design provided could ACTUALLY be converted into a name pendant made of gold.
The design was selected and we started 3D prototyping for the same using our 3D designing and prototyping tools. Within a week, her name was now glittering in the serene yellow of "GOLD". Check out the pictures below –
Three Reasons Why You Must Get a Name Pendant
It's just for you – At a time when everyone is wearing similar looking stuff, this exclusive customised name pendant is a blessing. It lends individuality to your personality and speaks volumes about how you are different from others. It's like a badge of confidence.
Acts like an Ice-breaker – Anybody walking by you is definitely going to notice this beautiful jewellery. Girl gangs would whisper ssh-ssh about how cool this pendant looks and how badly they want it for themselves. Cute strangers will compliment you about it and some of these compliments may turn to a maybe full blown conversation.
People remember you – Make this pendant a regular feature of your wardrobe and soon people may start identifying you as the girl who wears her name around her neck. People don't easily forget when they see something like this.
Name Pendant/Name Necklace As A Gift
Our customers have taught us that apart from the positives already mentioned, gifting a name pendant is a great choice for –
A newborn or toddler, as their baby shower gift
Your kid – he/she can have it with them lifelong. It will be a constant reminder of your love for them
Your girlfriend or boyfriend – they will love it
Your spouse or fiancee – perfect gift to mark the start of something new or to celebrate your anniversary
We have seen mothers send enquiries for customized name necklace for their 1-2 yr old babies. They plan to wear the neck piece themselves for now, and later gift it to the kid once he/she grows up. You can even spice up the design by adding things like angel wings, a star, a heart, a diamond, a tiara and so on. Couples can also have both their names on the pendant, or maybe a combination of their names. Saifeena much !!!
How to Order Custom Made Name Pendant Online?
We'd be happy to customise a piece for you because when it comes to custom designing, we can make anything that can be drawn. Such pendants would generally consume 6-10 grams of gold including the chain & would cost approximately Rs.15000 – Rs.25000. They can also be bought without the chain and the price, in that case, ranges in between Rs.7000 – Rs.11000. In case you want us to design and make one for you, you can write to us (from most effective to least effective)
Submit your enquiry using the short form below
Write to us on yourfri

[email protected]

Use the LIVE CHAT feature
Call us on +91-8764443300
Simply comment down below (last option ;-)).
FAQ Section
Is this name pendant made of real gold?
Yes, we deal only in gold based jewellery and therefore all the pictures that you see are made of real gold. We provide you with the option to choose gold purity as per your liking. Pendants made in 14K Gold and approximately 15% cheaper as compared to the ones made in 18K Gold
Can you make my name pendant in a colour other than golden?
We offer to make your pendant in either of yellow, white or rose (pink) colours. Other colour options like bright yellow, neon colours, black, etc can also be provided but this kind of colouring would be done using enamels.
What is the authenticity of gold provided by you?
All our name pendants made in gold are hallmarked by BIS. You can read here about how hallmarking ensures that you get genuine and authentic gold jewellery.
Can you stud my name pendant with diamonds?
Yes, we can very well stud your name pendant with diamonds and other precious and semi-precious gemstones as per your preference. All you have to do is that you need to specify what letters you want to be studded in gold and we'll do that.
Can bigger names be converted to name pendants as well?
Provided your name is not 50-letters long, we can accommodate most of the names and make pendants. Even names like Aishwarya, Chitrangada & Tanushree can be easily customised.
What is the process of ordering?
The complete process for getting your own personalised jewellery is –
Tell us the name that you wish to personalise and the budget
Select from the many font options provided by us or send us your own design
Approve the order estimation and release the advance part-payment
Approve the 3D model of your selected design
Wait for 5-6 days while it gets manufactured in our factory
It gets delivered to your provided shipping address.
How can I contact you for queries, questions and for placing my order?
We are available on email, phone and live chat.
Submit your enquiry using the short form below
Write to us on

[email protected]

Use the LIVE CHAT feature
Call us on +91-8764443300
Simply comment down below (last option ;-)).
Is it safe to be worn by newborns, toddlers and small kids?
A lot of our customers order these name pendants for their small kids. We advise them to not to buy one for kids below 2 years of age as they are too young for this kind of jewellery. For kids above 2 years, we take extra care and make sure there are no sharp edges in the jewellery that may hurt them.
What kind of chain do you provide and what length?
We will ideally show you the chain options at the time of order confirmation. Also, you can tell us what length chain you need and we'll provide that for you.
What kind of fastening do you use for chains?
We provide lobster claw fastening by default and if you are looking for a different kind, please let us know beforehand and we can change accordingly.
How much will it cost me?
The cost is a factor of the gold weight and gold purity. We are flexible in terms of design and can design to match your budget. Having said that, there are some minimums – Approximately Rs.7000 for the pendant & Rs.6000 for the chain. We can do both the pendant and the chain comfortably within a budget of Rs.20000 for most names & designs.
What else do you provide with the jewellery?
Your jewellery will come in beautiful KuberBox Jewellery Box and will be accompanied by Tax Invoice. In case your pendant is studded with diamonds, then it will also have Diamond Lab Report Certificate.

Skip To – Submit A Custom-made Jewellery Request
Pendants Made by us
Customized Name Pendant – Why You Should Get One Made For Yourself
by
Shaila
Comments
comments