Customized Name Pendant – Why You Should Get One Made For Yourself
Reading Time:
6
minutes
I know exactly why you are here. It's customized name pendants, right? We have a really interesting story for you. Don't worry, I am not going to bother you with a story right now. Rather, first, I am going to give you all the stuff that you came here for. Then, we can get into the backstory about name pendants.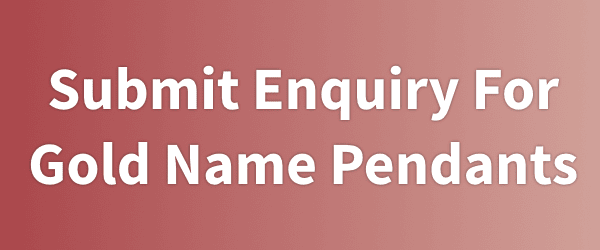 By the way, I am Sourav, founder of KuberBox. I am an engineer turned jewellery entrepreneur and I love designing and crafting fabulous new pieces of jewellery. Love creating new stuff and am passionately committed to helping everyone buy jewellery online with ease. At KuberBox, we just love customization requests. Our team enjoys working on each and every custom-made design of gold name pendants. Stay tuned as we reveal what goes behind the process and how you can order your customized gold name pendant here.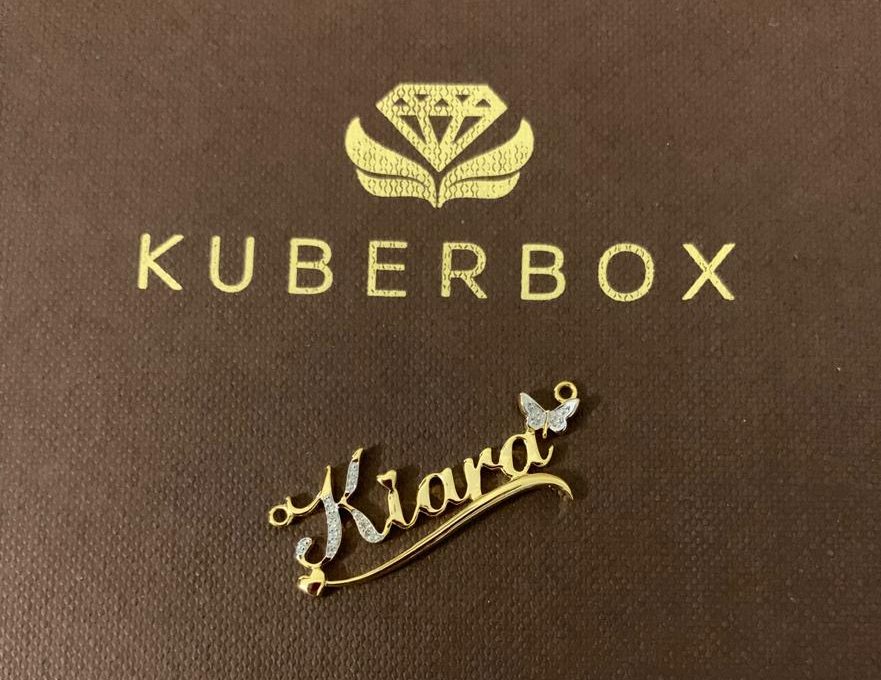 But first, let me reassure you that you have come to just the right place for anything customized. Most importantly for customized name pendants. Having made 1000s of name pendants we know what it takes to make the perfect one. We have a well defined and smooth process to accept orders for any customized jewellery and deliver them on time, on budget.
Here are just some of the latest ones that we made –
How to Order?
I know you can't wait to order yours and I am here to help you do exactly that. I will also answer some of the most common questions about name pendants in the section called FAQ on this page.
So let me know, start with our order process. Here's how it works?

Send Enquiry → Select Design Options → Decide Gold Purity (Karat) → Decide Diamonds → Approve Sketch → Approve Estimate → Pay Advance Token → Approve 3D Design → Get Delivery in 8 Days

Things start with an enquiry and end with you having a name pendant crafted to precision and perfection. We are also the most fairly priced brand for any type of gold and diamond jewellery. Our customized jewellery service has been taken by numerous online customers and you can read their glittering reviews here – Link 1, Link 2. Here are snapshots of some of the reviews that we love.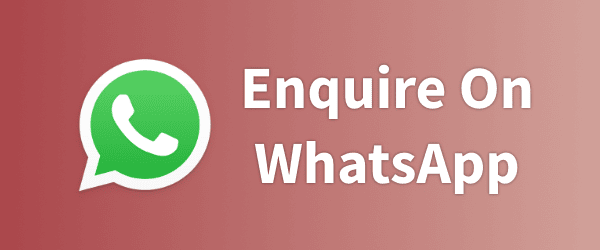 But, Why KuberBox?
You can trust KuberBox to make the perfect name pendant for you because we absolutely love doing this for everyone. We understand the requirements, we design based on that understanding and then we adjust the estimates to match your budget by using our experience and know-how to reduce the gold and diamond components in such a way that you can order your dream jewellery without compromising on the quality. Most importantly,
KuberBox sells 100% Hallmarked Gold Jewellery
Diamonds Are Certfiied by Reputed Labs
Design Match Guarantee – The customized products's design is guaranteed to match with the approved design
Lowest Charges For Customized Jewellery
High Accuracy and High Quality Using 3D Printing Technology
Standard Process & Transparent Pricing
Order Tracking
Insured Delivery
Lifetime Exchange Guarantee
Now, What's The Story?
Remember the first paragraph? The thing where I told you there is an interesting story behind KuberBox's name pendants? Well, the real reason how KuberBox started making name pendants was when my then-girlfriend (now-wife) Tanvi wanted a name pendant for herself. Being a fashion enthusiast, she had keenly observed that western women were into name jewellery and that intrigued and inspired her to get one for herself. This was way back in 2013 when KuberBox had just started and we were happy to make something new, something in which we didn't have any experience. The name pendant turned out to be abs-smackingly beautiful and we loved the process. I documented the process online on KuberBox's blog and that literally opened the flood gates and we started getting tonnes of requests. Slowly we understood the requirements and designed a workflow to accommodate such customized requests into the order flow and that is now a part of our DNA. Customization is the reason why KuberBox survived for 8 years and continues to thrive. That is why it's so precious to me as the founder of KuberBox.
Now that the mystery surrounding the backstory behind personalized gold name pendants has been revealed, it's safe to proceed to FAQs.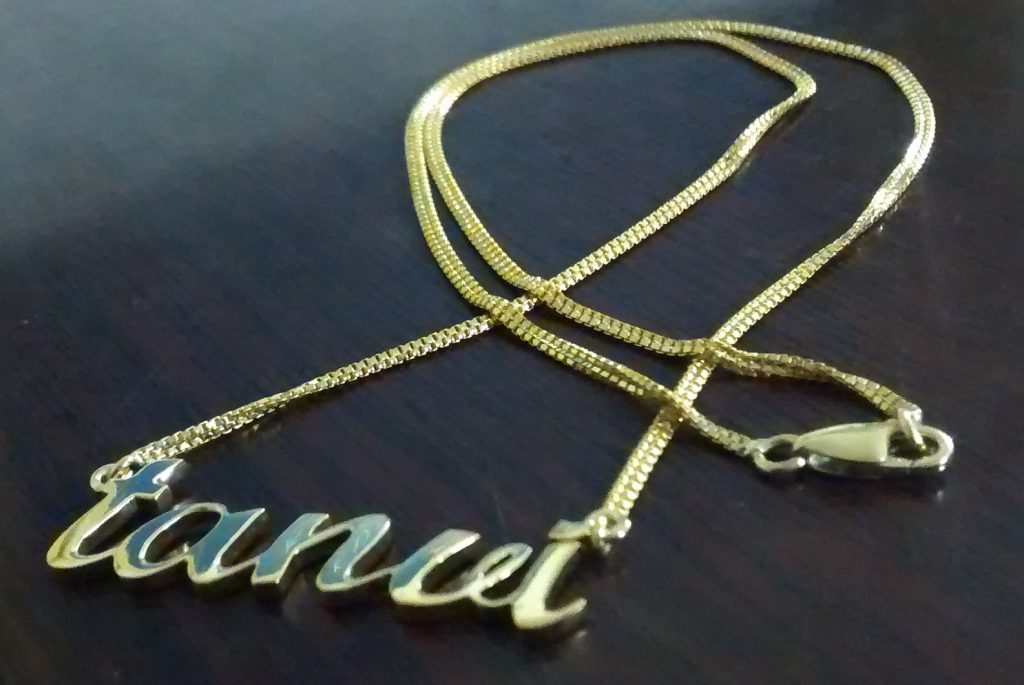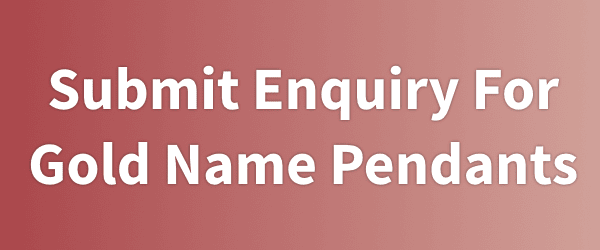 Frequently Asked Questions (FAQs)
Is this name pendant made of real gold?
Yes, we deal only in gold-based jewellery and therefore all the pictures that you see are made of real gold. We provide you with the option to choose gold purity as per your liking. Pendants made in 14K Gold and approximately 15% cheaper as compared to the ones made in 18K Gold. Alternately pendants made in 22k Gold would be about 17% dearer compared to the 18K variants.
Can you make my name pendant in a colour other than golden?
We offer to make your pendant in either yellow, white or rose (pink) colours. Other colour options like bright yellow, neon colours, black, etc can also be provided but this kind of colouring would be done using enamels.
What is the authenticity of gold provided by you?
All our name pendants made in gold are hallmarked by BIS. You can read here about how hallmarking ensures that you get genuine and authentic gold jewellery.
Can you stud my name pendant with diamonds?
Yes, we can very well stud your name pendant with diamonds and other precious and semi-precious gemstones as per your preference. All you have to do is that you need to specify what letters you want to be studded in gold and we'll do that.
Can bigger names be converted to name pendants as well?
Provided your name is not 50-letters long, we can accommodate most of the names and make pendants. Even names like Aishwarya, Chitrangada & Tanushree can be easily customised.
What is the process of ordering?
The complete process for getting your own personalised jewellery is –
Tell us the name that you wish to personalise and the budget
Select from the many font options provided by us or send us your own design
Approve the order estimation and release the advance part-payment
Approve the 3D model of your selected design
Wait for 5-6 days while it gets manufactured in our factory
It gets delivered to your provided shipping address.

In short, Send Enquiry → Select Design Options → Decide Gold Purity (Karat) → Decide Diamonds → Approve Sketch → Approve Estimate → Pay Advance Token → Approve 3D Design → Get Delivery in 8 Days
How can I contact you for queries, questions and for placing my order?
We are available on email, phone and live chat.
Is it safe to be worn by newborns, toddlers and small kids?
A lot of our customers order these name pendants for their small kids. We advise them to not to buy one for kids below 2 years of age as they are too young for this kind of jewellery. For kids above 2 years, we take extra care and make sure there are no sharp edges in the jewellery that may hurt them.
What kind of chain do you provide and what length?
We will ideally show you the chain options at the time of order confirmation. Also, you can tell us what length chain you need and we'll provide that for you.
What kind of fastening do you use for chains?
We provide lobster claw fastening by default and if you are looking for a different kind, please let us know beforehand and we can change accordingly.
How much will it cost me?
The cost is a factor of the gold weight and gold purity. We are flexible in terms of design and can design to match your budget. Having said that, there are some minimums – Approximately Rs.9000 for the pendant & Rs.8000 for the chain. We can do both the pendant and the chain comfortably within a budget of Rs.25000 for most names & designs.
What else do you provide with the jewellery?
Your jewellery will come in a beautiful KuberBox Jewellery Box and will be accompanied by Tax Invoice. In case your pendant is studded with diamonds, then it will also have Diamond Lab Report Certificate.

Enquire Now
Customized Name Pendant – Why You Should Get One Made For Yourself
by
Sourav
Comments
comments