Anushka Sharma's Sanju Look – How to Grab That Pendant & Ring
Reading Time:
4
minutes
Sanjay Dutt has that larger-than-life persona and a biopic of this Bollywood superstar had to be equally larger-than-life. Who better than Rajkumar Hirani (of 3 Idiots, Munnabhai Series fame) to bring baba's life on celluloid to millions of fans. So, Sanju released last Friday and I had been waiting to catch this movie. The trailer left a mark and left me wanting for more. Moreover, there were no good releases in the recent past and thus there was more desire to watch something worthy.
Rajkumar Hirani never disappoints and this time was no different. Anushka Sharma plays a small but pivotal role in this movie, portraying Winnie Diaz, a novelist. I found Anushka Sharma to be a complete package in this movie – She was shown in a savvy, and in a really well-dressed avatar, and comes across as a person with individualistic choices. I am sure her fans will have more words of appreciation for her. But I am not here to critic the movie or the stars. Being in jewellery line, I can't help but notice the jewels adorned by the stars in any movie. Anushka's Engraved Circular Disk Pendant immediately caught my attention and so did her Three Tone Stackable Ring (We have done a similar piece on her before, for her unique nose ring in Ae Dil Hai Mushqil). Since it was shown that her character lives abroad, it made sense that the choice of jewellery for her was kept minimal and modern.
Ask any millennial out there, and they could easily do with another set of engraved disc pendant or stackable rings. Since after the movie, two persons known to me have already sought my opinion on getting these jewellery pieces for themselves and therefore, I thought, it made sense to write about those pieces here. I am sure more fans out there must be looking for it.
Round Engraved Pendant
Since we do a lot of personalized and custom-made jewellery, it's quite easy for us to accommodate any text or symbol in such pendants. What Anushka wore was basically a thin gold plate in round shape on a delicate cable chain. The round plate was engraved, although the exact text engraved was not clear to me. The exact text on her pendant is not important because what you can engrave on your pendant can be something completely personalized. It can be a mix of letters, numerals & shapes in different fonts & types. So there are endless possibilities and we plan to bring that to you. If you are looking to get this pendant in gold, click on the below image to be taken to our website where you can purchase one such engraved round pendant.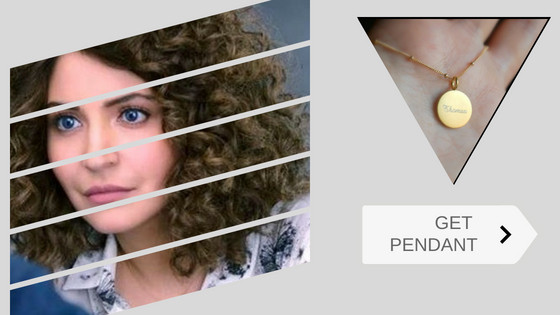 You may also wear these in numbers – I mean, instead of wearing just 1 disc, you may choose to wear multiple and have separate engravings on each. You may end up with something similar to this picture.
We have some variation of the pendant available as well with diamonds and a pre-written and enamelled letters "Love You to the Moon & Back". If you have similar ideas in mind, get in touch using the form below and we would be happy to design a piece of customized jewellery for you in gold.
[magento store="1″ sku="P2894,P9278″ prefix="INR " suffix="" title="h8″]
Three-Tone Stackable Rings
Another piece of statement jewellery Anushka wore was – Set of 3 rings, 1 each in yellow gold, rose gold and white gold, word end to end, and thus called "Stackable Rings". Literally, because they can be stacked one after the other on the same finger. Again a millennial thing, the stackables are great to be paired with anything and they speak volumes about your evolved fashion sense. Anushka wore a broader set of rings with bigger diamonds, we have something that is equally classy and can be used for stackable ring purpose. When it comes to stackable, you can either buy 2 rings or 3 or 4, you can buy multiple of the same design in different colour tones, different stones, etc., or completely different designs on each ring. That is why the canvas is all yours and you can paint it the way your heart wants to. You can create your own unique stackable and then purchase it.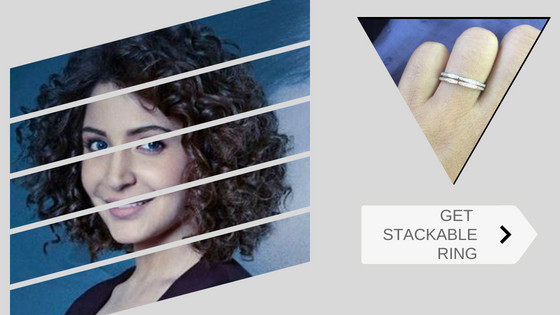 Here are some more rings from our online jewellery store, that can be used to make your own unique stackable rings. Do remember to choose the same ring size for all the rings you are going to wear on the same finger.
[magento store="1″ sku="R2551,R2550,R2555,R2286,R2273,R2215,R2558,R2202,R-S100CAD06R,R2574″ prefix="INR " suffix="" title="h8″]
So with this small blog post, I hope, the fans and jewellery enthusiasts now know where to get the jewellery adorned by Anushka in the movie Sanju. Post this movie, I think I am going to be more alert about celebrity jewellery and try to bring them to you along with the place to buy them from.
Send Personalized Jewellery Request
Anushka Sharma's Sanju Look – How to Grab That Pendant & Ring
by
Sourav
Comments
comments