What Are Eternity Rings & How To Buy One
Reading Time:
11
minutes
What are eternity rings?
Eternity Rings, a new concept in India, is a precious metal ring that has diamonds studded across the whole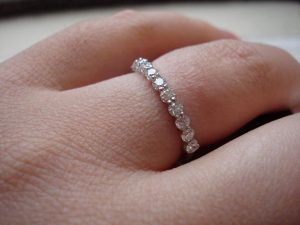 circumference of the ring. The precious metals most commonly used are white gold, yellow gold, rose gold or platinum. Eternity rings are considered a fine symbol of love and are usually gifted by a husband to a wife. The eternity ring is usually worn on the ring finger of the left hand and is usually gifted on a special occasion. The occasion can be the 1st anniversary or the birth of the first-born or any other significant celebration in a couple's life.
"In short, eternity rings are fine rings that have a line of diamonds studded throughout the band"
Meaning of Eternity Rings
The eternity rings, by definition, have a line of diamonds studded on it. This never ending line of diamond symbolises the eternal and never-ending love that a couple shares. There is no-start or no-end to this line of diamonds and therefore it symbolises the never-ending nature of the true love. Diamonds themselves are forever and they, therefore, add to the meaning of the eternity rings. Diamonds are hardest known stones and thus symbolise the in-destructive nature of the love between a couple.
Types of Eternity Rings
Originally, the eternity rings meant a line of diamonds studded end to end on a piece of a metal ring. Owing to different factors, now, two prominent types of eternity rings have emerged –
Full Eternity Rings
Half Eternity Rings
Full Eternity Rings
The eternity rings, as we know it, are the full eternity rings. The basic definition of a full eternity ring is that the diamonds or the stones used are studded all around the circumference of the ring. The diamonds are studded end to end and are thus called "Full" eternity rings. We will later in this post discuss the pros and cons of a full eternity ring.
Half Eternity Rings
Humans are smart and we seem to have figured out a way to keep the traditions alive while modifying the design a bit to suit modern and practical needs. By definition, the half eternity rings are rings that are made of precious metal and have diamonds studded half-way around the circumference of the ring. Thus the name "half" eternity ring. It does not have to be exactly half the circumference, it can be ¾, ½ or ¼ or anything. As long as the diamonds are not studded all around, and there is a bit of plain metal between from where the line of diamond starts and where it ends, they can be called half eternity rings. We will later discuss the pros and cons of a half eternity ring.
Metals Used In Eternity Rings
Eternity rings are fine rings and thus are made with fine metals. Gold, silver, platinum and palladium are all fine metals. However, they are most commonly made with gold or platinum. Always opt for BIS hallmarked gold & PGI certified platinum while buying fine jewellery.
Full Eternity VS Half Eternity Rings
Among the biggest diamond jewellery forums, the discussion of full eternity vs. half eternity is reaching boiling points. The advocates of each of these styles are sharing their experiences and suggestions. Any woman getting herself an eternity ring or any man gifting her lady an eternity ring is probably facing the same dilemma. We will give you the highlights –
Full eternity rings cost more almost double of half eternity rings.
Depending on the type of setting of the diamonds, a full eternity ring may be slightly uncomfortable due to the friction between the ring's diamonds and the neighbouring fingers.
It's impossible to resize a full eternity ring while it is possible to resize a half eternity ring.
You may have to keep adjusting your half eternity ring to bring the diamond side on top as the ring keeps turning in your finger. This is a problem that you won't have in full eternity rings.
Resizing Of Eternity Rings
As already mentioned in previous sections, it is impossible to resize a full eternity ring. If you think you may need to resize your ring in future, it is best to opt for half eternity ring. An eternity ring with even 1/4th plain metal at the bottom of the shank can be easily resized by a skilled craftsman. We, at KuberBox, offer ring resizing free of cost for our customers. If the change is of 1 or 2 sizes, the resizing can be done without removing the stones whereas if the change is more, the jeweller may need to remove the stones. After the resizing is done the stones can again be studded.
Best Setting for Eternity Rings
Full eternity rings can cause irritation and discomfort to your fingers. The prongs holding the diamonds may cause some discomfort if they are not done properly. That is why the diamond setting becomes important here. When buying full eternity rings, customers have shown a liking towards bezel set diamonds as the diamonds in this setting are covered with metal on all sides and thus are very comfortable to the skin of the adjacent fingers. Similarly, in the channel setting, the diamonds are held between two parallel walls and thus cause minimum discomfort. Channel setting eternity rings are hugely popular. If your diamonds are small, you can opt for other regular settings like the prong setting or the pave setting as well. The benefit of channel setting and bezel setting is that they also save your diamonds from all the hits and hammering eternity rings generally go through.
Different Designs Of Eternity Rings
Though usually, the eternity rings are simple with just a metal ring and diamonds on it, they can still be designed in a number of ways. Let us see the types –
PROS & CONS OF FULL ETERNITY RINGS
PROS OF FULL ETERNITY RINGS –
It will always be in place
You won't have to solder it to your engagement ring
They appear more luxurious.
CONS OF FULL ETERNITY RINGS-
They are slightly uncomfortable if the diamonds are protruding outside. The diamonds and the prongs may create irritation for the neighbouring fingers.
They cannot be resized
They have to be custom made generally and thus may have limited availability.
PROS & CONS OF HALF ETERNITY RINGS
PROS OF HALF ETERNITY RINGS –
They can be easily resized.
Numerous designs are readily available.
They are priced more affordably
They are relatively more comfortable to wear.
They are easier to maintain.
CONS OF HALF ETERNITY RINGS-
The ring will keep turning on the finger and therefore, they constantly need to be adjusted to bring the diamond part on top.
How to Wear Eternity Rings
Eternity rings are usually gifted to wives and sweethearts by their partners and thereby, they are a symbol of love. Moreover, they are gifted on an occasion or date which bears significant importance in that couple's life & therefore is a treasured gift of love. A sweet reminder of something truly special. Most people get an eternity ring that matches with their engagement ring so that both can be worn together for a grander appeal
Together, they are called a bridal ring set. The eternity ring can be worn standalone, or with the engagement ring. It is usually worn on the 4th finger of the left hand. This finger is believed to have the vein which culminates into the heart. Some people may also wear an eternity ring on a different finger, maybe the thumb.
How to Buy an Eternity Ring
If you are planning to get yourself an eternity ring, or if you are looking to gift one to your wife, worry not because we are here to help. With the excruciating details provided in this blog post, you have now learnt everything there is to learn about the eternity ring. Therefore, the first step would be deciding what sort of eternity ring you need. You may visit our gallery of eternity rings for ideas or check out the eternity ring designs available online on our website to see more options. You then need to decide whether you want to go for a half-eternity or a full eternity ring (See Half Eternity vs. Full Eternity Ring). Then you should decide upon the budget and start selecting the designs accordingly. If this is a surprise that you are planning and you wish to gift your wife an eternity ring, be sure to get her ring size accurately (See International Ring Size Conversion Guide). That's because once made, eternity rings cannot be resized as we have already learnt through this post. It will serve you well if you can decide upon the diamond setting for your eternity ring. Once these things are figured out, you may commission a custom-made eternity ring to KuberBox or you may choose to shop directly from the available catalogue of eternity ring designs online on our site.


Custom-made Eternity Rings Online
If you are going for a custom made eternity ring, it will be much easier for you if you can first give a thought to how wide or narrow you want the ring to be. The thickness, along with the other parameters will dictate the size of the diamonds and thus the price of the ring. Therefore, it will help you get the desired quotation faster if these things are already figured out. Whenever submitting a customized jewellery request, it's best to first think through your preference and then ask the manufacturer to provide the estimate as per your requirements.
This brings us to the end of this lengthy discussion about eternity rings. Did we miss something? Share with us by commenting in the comments section below & we will update the blog post. If you currently own an eternity ring, do post a picture of it here and tell us the story behind it.

Gallery of Eternity Ring Pictures
Submit A Custom-made Eternity Ring Request
Table of Contents
What are eternity rings
Meaning of Eternity Rings
Types of Eternity Rings
Full Eternity Rings
Half Eternity Rings
Metals Used In Eternity Rings
Full Eternity VS Half Eternity Rings
Resizing Of Eternity Rings
Best Setting for Eternity Rings
Different Designs Of Eternity Rings
Pros & Cons of Full Eternity Ring
Pros of Full Eternity Rings
Cons of Full Eternity Rings
Pros & Cons of Half Eternity Ring
Pros of Half Eternity Rings
Cons of Half Eternity Rings
How to Wear Eternity Rings
How to Buy an Eternity Ring
Custom-made Eternity Rings Online
Share Your Comments with Us
Gallery of Eternity Ring Pictures
Submit A Custom-made Eternity Ring Request
What Are Eternity Rings & How To Buy One
by
Team KuberBox
Comments
comments