Ultimate Diamond Nose Ring & Nath Guide – 50+ Questions Answered on Nose Rings, Nose Hoops, Naths & Septum Nose Rings
Reading Time:
15
minutes
Undoubtedly, the smallest piece of gold jewellery that can have the most significant effect on your appearance is the diamond nose ring. Or, just a gold nose ring. It's a small piece of nose jewellery that you wear on your nose, typically made of gold and diamonds, and sometimes with colorstones as well.
We won't get into the history of nose rings because we know if you're reading this, you already understand nose rings way better than we can explain here. We are here to give you the finer details, those small important tips which are usually skipped. At KuberBox, we have had the privilege of designing some of the most striking nose rings & Nath designs for our customers. Honestly, nose rings and naths are our most popular category, simply because we have the most versatile collection for nose rings out there. Importantly so, we focus a lot on improving them and coming up with trendy new designs that are nowhere to be found. Oftentimes, we also tend to take inspiration from global celebs too! Remember the famous Sania Mirza Nose Ring? Well, we have it under the name of Classic 0.04 Carat Nose Ring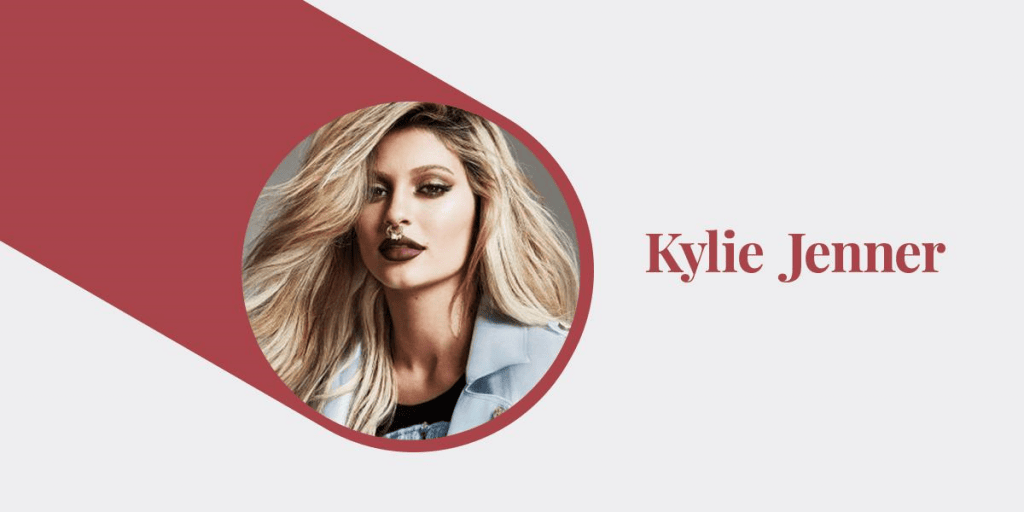 Some Nose Ring FAQs
While nose rings are fairly common, there are a lot of questions, and we mean a LOT of questions around choosing the right nose ring, nose ring piercing and much more. Here, we try to answer them all, as precisely as we possibly can!
What are the different types of Nose Jewellery?
Nose jewellery comes in many forms and shapes. Essentially crafted in gold, silver and in some cases titanium and stainless steel, nose jewellery often comes in the form of Studs, Small Rings and Large Hoops in addition to the more traditional Naths. Some of the most popular nose jewellery include –
Nostril Screw – Usually a stud or a flower, this is essentially a flat stick that is held in place through a screw. In India, the nose wire style is quite popular too.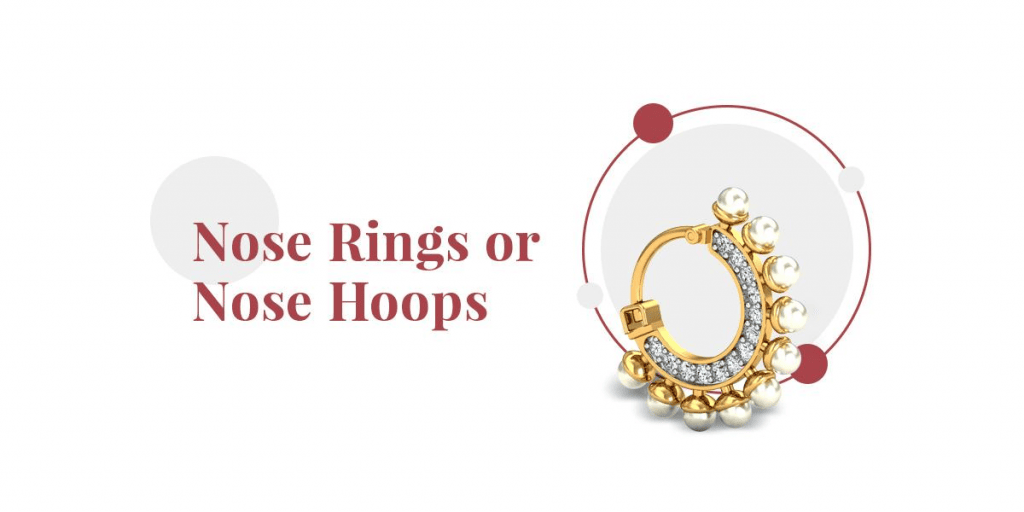 Nose Rings or Nose Hoops – Usually a smaller diameter nose ring in hoop style which is worn on the nostril piercing.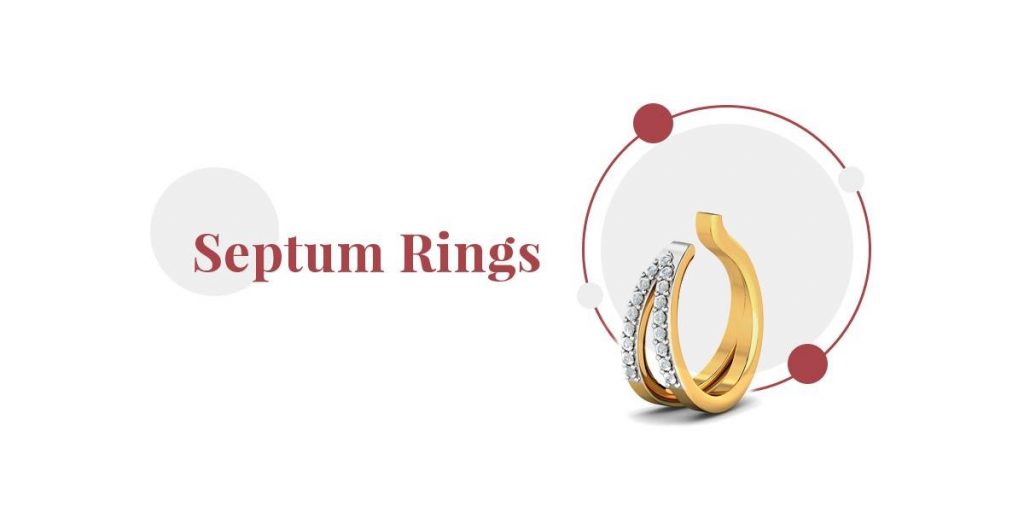 Septum Rings – As the name suggests, these nose rings are worn on the bridge that connects the nostrils. These are usually small and rather light in weight.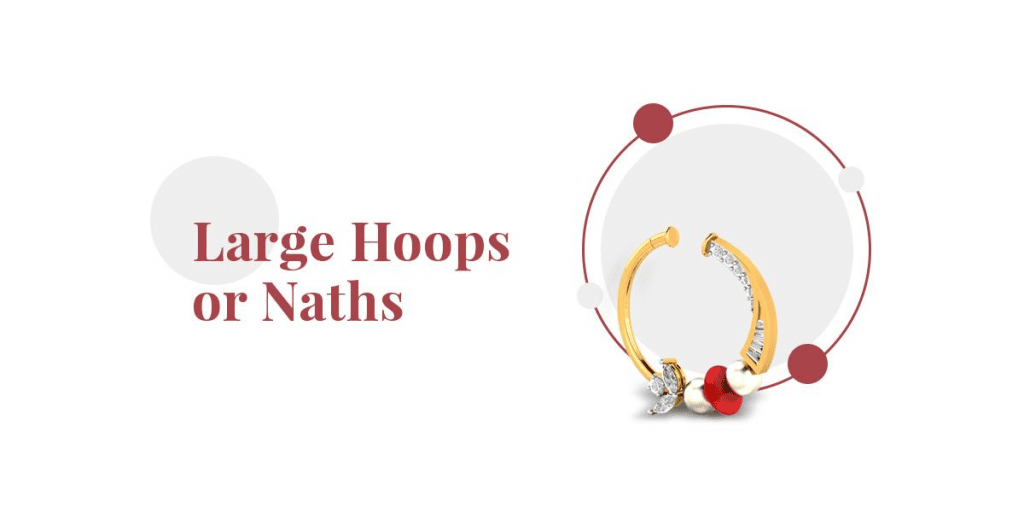 Large Hoops or Naths – Often designed using coloured gemstone stones or pearl beads, these are fairly large, and in some cases are accompanied by a chain that can be hooked or pinned up in the hair.
Will nose ring suit me?
Why not! The nose ring is an amazing accessory that helps bring out your facial features in the most astounding manner. That said, for a nose ring to suit you perfectly, you need to pick a design that complements your face cut. Confused? Well, don't be, because we have this quick guide to help you with the question – Which type of nose ring will suit my face?
Nose Rings for a Face with Sharp Features
If you're blessed with a sharp nose and a well-defined jawline, you must choose a nose ring that is rounded such as the Basic Round Nose Ring or the Alizeh Diamond Nose Ring.
Nose Rings for a Long Face
Worried that your long face would look even more elongated with a nose ring? Don't you worry about that! Picking a nose ring that is both broad and is adorned with gemstones or beads will help create the perfect balancing act while adding oodles of elegance to your face. Here are some designs that will help you achieve that oh-so-desirable look – Shagun Emerald Nose Stud, Dream Pearl Nose Ring, and Regina Sapphire Nose Pin.
Nose Rings for a Round Face
If your face is round and you would like a more elongated look, something like the Sassy J Ring or the Rhea Diamond Nath can help you do just that!
Nose Rings for A Classic Face Shape
If your face is neither too sharp nor long, neither too narrow nor broad, then a Nose Stud such as the Tiny Peridot Stud or this Diamond Nose Stud should be your go-to choices. They are exceptionally versatile and can accentuate your beauty instantaneously!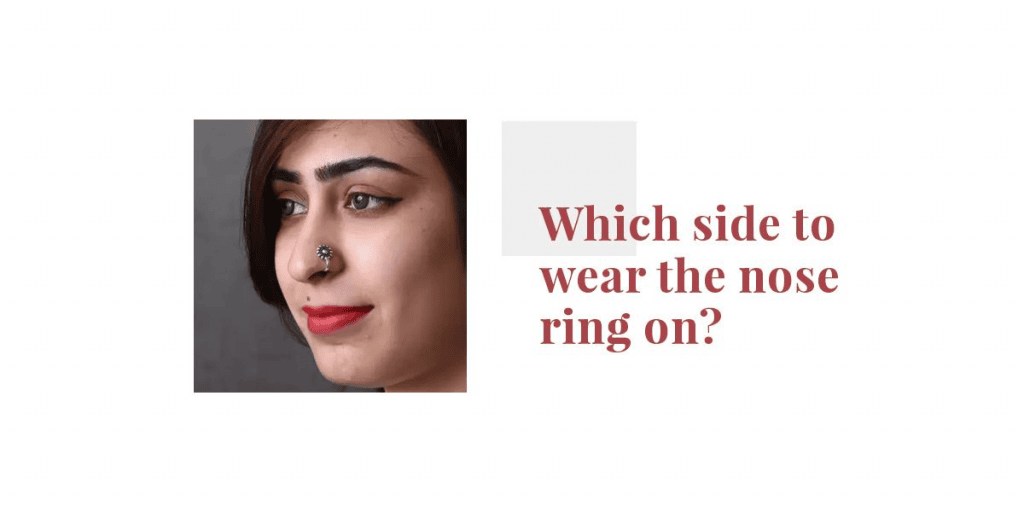 Which side to wear the nose ring on?
Either side is fine. By tradition, most south-Indians have their piercing on the right side while others have it on the left side. It's important to pay attention to the side while buying a nose ring because some designs are not made to be worn on either side. At KuberBox you can easily find numerous designs for both varieties.
Which side nose ring will suit me?
Left side piercing is preferred by more people. Most people also have a preferred face profile or a selfie side (the side which looks good on selfies). If that is the case with you as well, we suggest you choose that side.
Why should I wear a nose ring?
In ancient India, the piercing of the nostril was considered imperative as it was believed to strengthen the ovaries and create favourable conditions for childbirth. And, modern medical science has proven these benefits. Besides, nose piercing enhances the sexuality of a woman. Now, aren't these reasons compelling enough?
If not, you can simply wear nose rings to accentuate your look, and enrich your facial features.
Why nose ring elevates the appearance so much?
Because, a nose ring brings attention to the centre of the face, such that the onlooker can easily see the most beautiful features, i.e. the eyes, the nose and the smile of the wearer.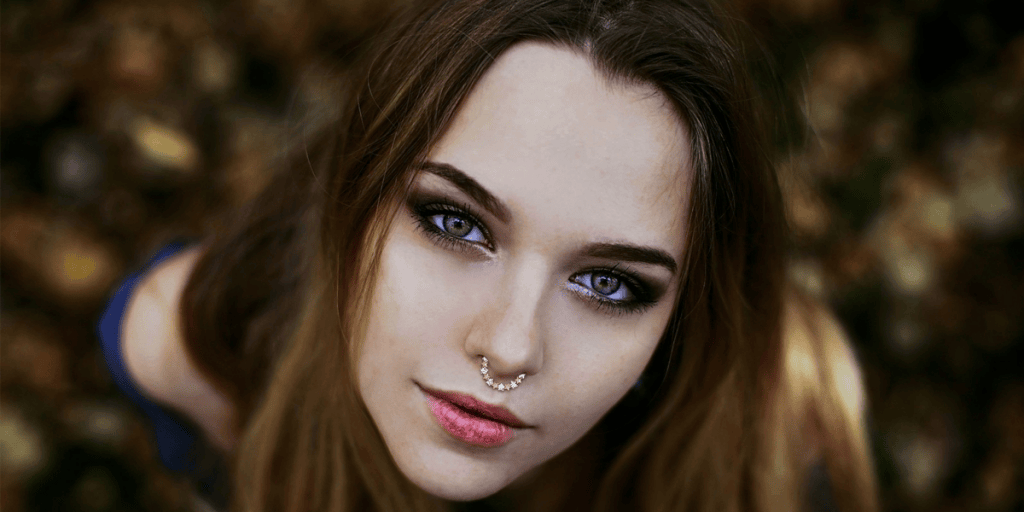 Where to buy a nose ring near me?
Most local retail jewellery stores maintain an inventory of popular nose rings like the Basic Round Nose Ring & Classic 0.04 Carat Nose Ring. You can want into those stores and choose the one that fits you well. If you are looking for non-precious metal nose rings like stainless steel or titanium, you need to visit the corner fancy store as they would most likely be having a few designs.
If you prefer to buy the highest quality and irritation-free gold nose rings, simply check out the sizzling nose ring collection, at none other than your most trusted online jewellery store – KuberBox.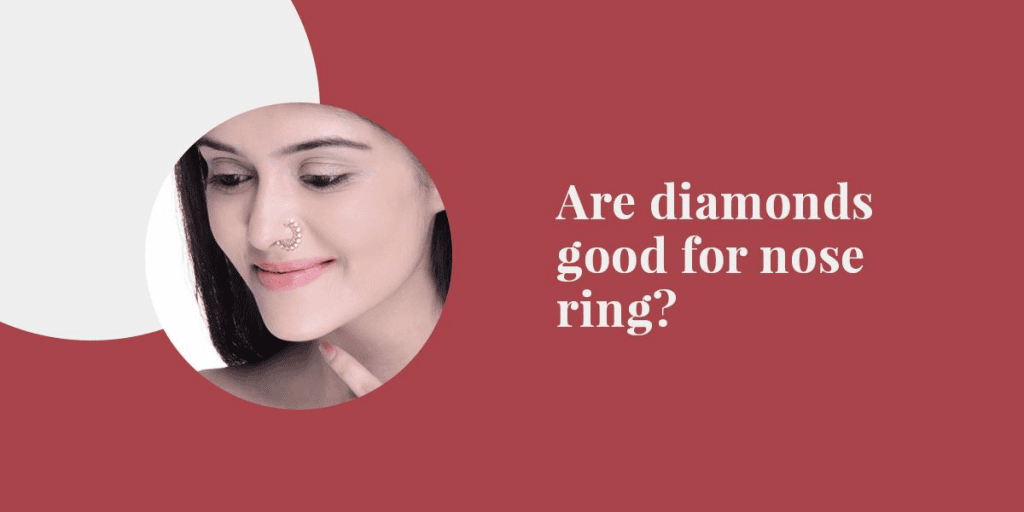 Are diamonds good for nose ring?
That's a definite yes! Depending on your preference, you can choose as small or as big a diamond for your nose ring! In nose rings, you can also have a full line of diamonds studded along the perimeter of your nose ring.
Which type of nose ring is best?
Well, if you ask us, we at KuberBox are absolute fans of unusual diamond nose rings in experimental & new styles – something that makes you say "you must be crazy to wear them". For regular use, opt for a non-pointy and smoothly finished diamond nose ring made on an 18kt gold base. Ensure diamonds are studded securely into the gold and that the locking mechanism is smooth.
What is the lowest price for a nose ring?
While elegant nose rings such as the Trident Gold Nose Stud and Trident Gold Nose Ring will cost you as little as Rs. 2,700 (approx.), the stunning Basic Round Nose Ring and Keily Heart Nose Stud will cost you a meagre Rs. 3,200 (approx.)
Is nose ring considered unprofessional?
That depends on your place of work, and the dress code. However, most workplaces have little to no issues with a small nose ring.
Can nose rings be used as hoops earrings?
Of course! If your nose ring is a good fit for your ear and you like the way it looks on the ear, go ahead and own the look. Ideally, the inner diameter of nose rings are 8 mm and that of hoop earrings are a minimum of 9 mm. So in case, your nose rings fit well, you can wear them on your ears by all means.
Can nose rings be used as cartilage earrings?
Yes! A vast number of people use nose rings as cartilage earrings owing to their perfect fit and convenient design.
Do nose rings come in pairs?
In most cases, nose rings are offered as a single piece. However, if you wish to buy a pair, you can always place an order for 2 nose rings. While doing so, make sure that you chose a design that does not involve any restriction in terms of the side on which it could be worn.
How to buy a nose ring for my wife?
You are in luck because we've curated a guide just for that. Click here to read on.
How often should you clean the nose ring?
When you have a fresh piercing, you shouldn't take out the nose ring up to two months from the date of the piercing. Once the piercing has completely healed, you can take out and clean your nose ring once every two-three months, or even more depending on your personal preferences.
Are nose ring holes visible when you don't wear anything on them?
In some cases they are, in some, they are not. The visibility of nose piercings largely depends on how old they are. The older the piercing, the more visible they are.
Can nose ring holes be covered using makeup?
If you need to cover your nose piercing when you're not wearing a nose ring, you can do so by concealing the same using makeup. Simply use a lightweight foundation and dab around the piercing. You can then finish the look by using setting powder on top. Make sure you use this hack, only after the nose piercing has completely healed, otherwise you may end up with an infection.
All About Nose Ring Measurements
How to measure my piercing height?
To know the piercing height, simply cut a strip of paper and align its top with your piercing. Next, make a mark on the paper at the point where it aligns with the edge of your nostril. This marked portion is essentially known as your piercing height.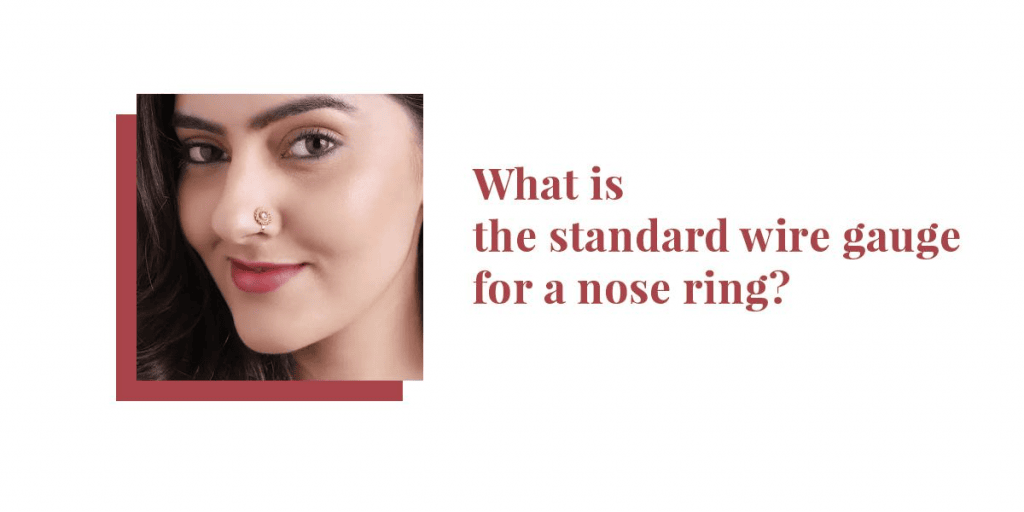 What is the standard wire gauge for a nose ring?
18 is considered to be the standard wire gauge for a nose ring, however, some people use the comparatively thinner 20 gauge. 16 or 18 gauge thickness is preferable in most cases as it helps the nose ring to stay in place and averts any chances of migration due to the added sturdiness.
What gauge nose ring should be preferred?
16-18 is considered an ideal gauge for nose rings.
How to know if a nose ring will fit me?
If the inner diameter of your nose ring is greater than your piercing height, the ring will easily fit you.
How to measure the diameter of my nose ring?
Simply make use of a ruler or calliper to measure the diameter of your nose ring.
How many millimetres should my nose ring be?
8 millimetres is considered to be ideal for a nose ring.
All About Nose Piercings
What is an ideal age for girls to get nose pierced?
A girl should only get her nose pierced, when she is old enough to care for her fresh piercing. Infants or toddlers who tend to play with the nose ring, or touch the piercing with dirty hands should not get nose piercings.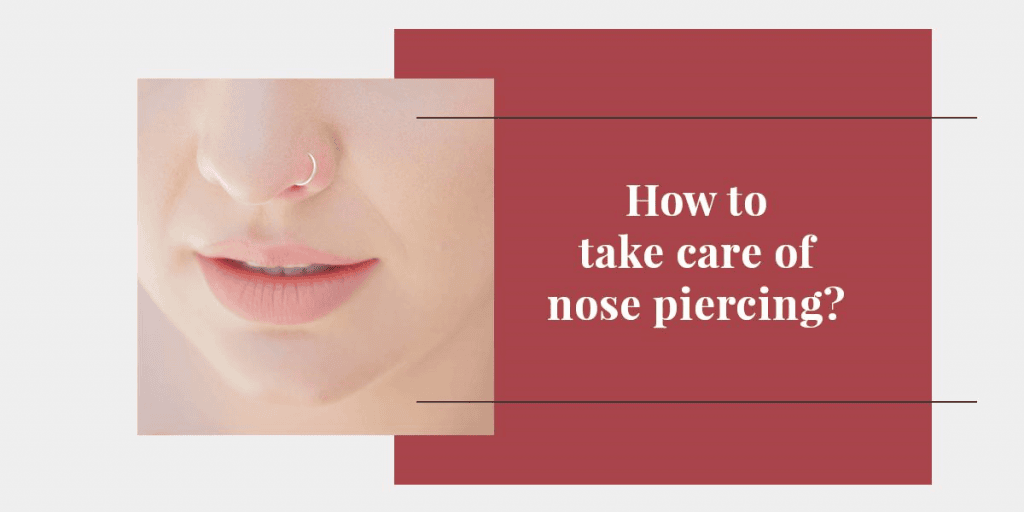 How to take care of nose piercing?
In order to take care of your fresh nose piercing, you ought to follow these guidelines –
Make sure to touch your piercing only after you have thoroughly washed your hands using soap and water.
Using warm water and a saline solution, rinse your piercing at least twice a day. This will help avoid any germ build up.
Only if absolutely needed, use a bar of unscented soap to the clean the area around the piercing.
Dry you nose by gently dabbing it with a clean towel.
Why does my nose ring hurt?
Getting a nose piercing can sometimes result in a tissue trauma, which may cause tenderness around the piercing accompanied by some redness and swelling. Usually, these symptoms appear one or two days after the piercing. This is usually normal and will go away as the piercing heals. If it stays for long or worsens in condition, you might need to visit a doctor and seek medical help.
How to remove the nose ring?
Gently start pushing the ring from inside your nostril, so that the pole or the rounded wire becomes visible. When a sufficient length of the pole is exposed you can hold the same and pull from outside, again, gently.
Why I can't get the nose ring back in?
In case you've removed your nose ring and have left the piercing empty for more than a day, chances are your piercing may have started closing up from the inside. This is the most likely reason that you are unable to wear your nose ring. Alternatively, it becomes painful to get back the nose ring in, when there's an infection in the piercing.
Will nose ring hole close up?
In case, your nose is freshly pierced, the piercing can close up in just a few minutes. If your piercing is less than a year old, it might take a few hours or in some cases a couple of days to close up. However, if your piercing is substantially old, it will only be the inside of the hole that will close up and it might take some manoeuvring to open it up.
How often can I change my nose ring?
After the initial piercing, you should not change your nose ring for at least 2 months, since it might lead to the piercing closing up. Moreover, touching the piercing too often, and removing and wearing nose jewellery frequently may lead to potential infection and even scarring.
After the passage of the 2 months, you can conveniently change your nose ring as frequently as you would like.
How to tell if the nose ring is infected?
As mentioned earlier, it is common to experience a slight tenderness accompanied by redness and swelling in the first few days, the below-mentioned symptoms may be a sign of serious infection –
A throbbing and borderline intolerable pain around the piercing
Burning sensation around the piercing
Unusual or extreme tenderness
Unpleasant smell from the piercing
Green or yellow coloured pus around the piercing
How to ensure my nose ring metal does not infect my piercing?
To avoid any potential infection, you must choose a hypoallergenic metal for your nose ring. Gold, Titanium, Sterling Silver and Stainless Steel are some of the most popular hypoallergenic metals that are considered ideal for nose rings.
Pro Tip – Make sure the metal you choose is free from Nickel. KuberBox ensures all its jewellery is nickel-free.
Are nose ring bumps normal?
Yes, they are fairly normal. Most bumps fade away with time. If yours persist for more than 1 week and are unusually painful, you may want to consult a doctor.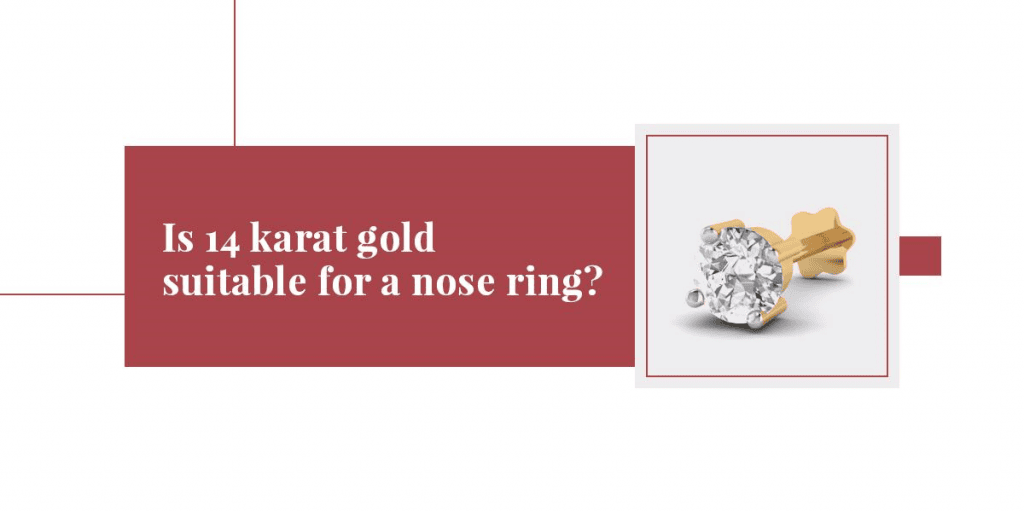 Is 14 karat gold suitable for a nose ring?
Yes, 14 Karat, 18 Karat and 22 Karat gold are all pure and are therefore hypoallergenic, implying that they do not cause any infection or allergic reaction. Hence, all three of these are considered suitable for a nose ring.
Is piercing required to wear a nose ring?
Not at all. In fact, at KuberBox, we have a wide range of nose rings specially crafted for women who do not have nose piercings. Check out our Traditional Diamond Spring Nath and Stark Screw Nose Ring amongst the many other designs that we have in store for you!
Can I wear a nose ring if I don't have any piercing?
Yes. It is quite easy to find nose rings specially designed for women who do not have nose piercings.
Does white gold cause allergy to nose-piercing?
No. White gold does not cause allergies to nose piercing. However, that is only true when Nickel has not been used to make the gold white since Nickel is known to cause allergies. You'd be happy to know that KuberBox doesn't use nickel in any of its jewellery.
Does rose gold cause allergy to piercing?
No. The content of pure gold is significantly high in rose gold, which makes it exceptionally rare for rose gold to lead to any allergies, whatsoever.
All About No-Piercing Nose Rings
Is clip-on gold nose rings safe?
Yes. Clip-on gold rings are very safe and do not cause any trouble, whatsoever.
Is no-piercing gold nose rings safe?
Maybe yes, maybe no. That depends on how secure the holding mechanism is. There are various types of non-piercing nose ring mechanisms – spring mechanism, tension mechanism, screw mechanism, etc. We won't suggest the tension mechanism as it's not that safe for holding your precious gold and diamond nose ring, however you can go for the spring or the screw mechanism.
What is the spring lock mechanism for nose rings without piercing?
Simply wear the nose ring, and adjust its position on your nose. Here the two jaws of the nose ring can be opened and one of the jaws is supported by an iron-spring. You can open the jaw to increase the gap and wear the nose ring. Once the nose ring is in its place, you can let go of the job and it will fall into its place through the sprint mechanism. Check out our stunning diamond nose ring with a spring lock mechanism that you can wear without piercing.
What is the screw lock mechanism for nose rings without piercing?
Unscrew the nose ring and adjust the same on your nose, before you start screwing it again and having it sit tightly and comfortably on your nose. Want the most stunning nose ring that you can wear with a screw lock mechanism? Check it out here!
All About Septum Piercings
Can nose rings be used for septum?
While some nose rings can be used for septum piercings, most are usually larger in gauge. In most cases, nose rings for septum are different in design and style as compared to generic nose rings.
Do I need to get a new nose ring for septum piercing?
Preferably yes. As mentioned earlier, in most cases, nose rings for septum are different in design and style as compared to generic nose rings.
How to find out if my nose ring can be used for septum piercing?
If your nose ring is 14 or 16 gauge in size and is in the shape of a circular barbell or a horseshoe, it can be most likely used for a septum piercing.
Nose Rings and Culture
What are the cultural implications of wearing a nose ring?
In Hinduism, a nose ring is worn when a girl reaches a marriageable age and was traditionally taken off at the death of her husband. In quite a few other cultures as well, the nose ring is perceived as a sign of being married.
Are nose rings considered haram?
NO! Nose piercings or ear piercings are not considered haram in Islam.
Why so many women in the Muslim community wear nose rings?
Nose rings are a great way of adding an ornament to an ensemble, in a subtle yet awe-inspiring way, which is why a vast majority of women in the Muslim community, especially in the Indian subcontinent wear nose rings.
All About Bridal Nose Rings or Naths
What is nath?
The 'Nath or nose ring is a popular piece of jewellery worn by Indian brides. Typically, a nath is a large hoop made of gold, crafted with semi-precious stones, beads and Kundan, some cases are accompanied by a chain that can be hooked or pinned up in the hair.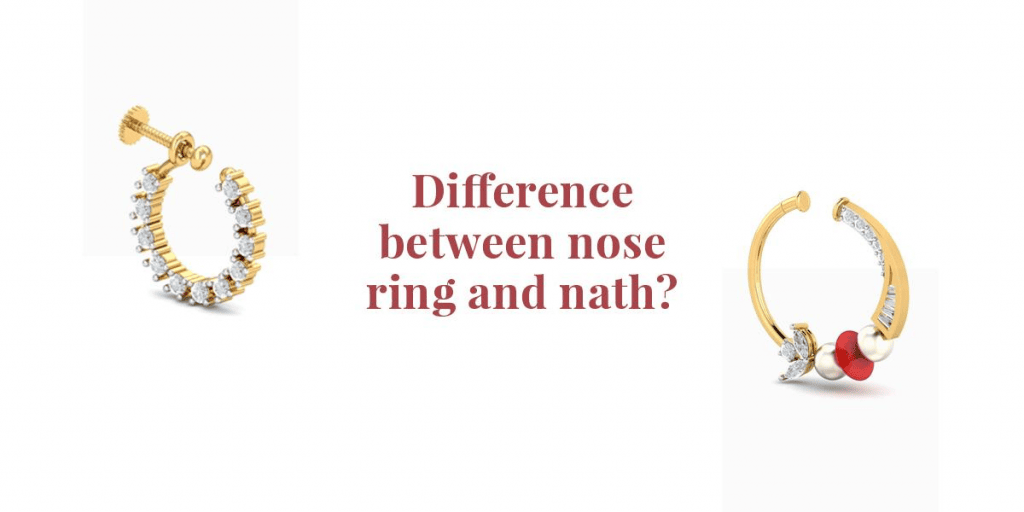 Difference between nose ring and nath?
While a nose ring is typically smaller in size, a Nath is comparatively larger and is often accompanied by a chain that can be hooked or pinned up in the hair.
Difference between nose pin and nath?
A nose pin is nose jewellery that comprises an ornamental head, is accompanied by a wired pole that sits within the nostril. A nath on the other hand is a hoop-shaped piece of nose jewellery.
What are the types of nath?
Karwari Nath – Essentially hailing from Karwar (Karnataka), these naths are gold-plated, adorned with rare Basra Moti and are studded with semi-precious stones.
Puneri Nath – A contemporary twist to traditional Mahasrahtrian Naths, these are elongated in design and are embellished with coloured gemstones.
Peshwai Nath – Comparatively smaller in size, these naths are circular and are designed to complement pearl jewellery.
Diamond Nath – Crafted in gold or silver, embellished with diamond, this type of nath is essentially a modern twist to nose rings.
Banu Nath – Taking inspiration from the popular character Banu of the TV serial 'Jai Malhar', this nath is characterised by a semi-circular design, semi-circle, studded with a single row of stones and pearls.
Pachu Nath – Adorned by emeralds, this nath gives a royal and ethnic appeal to your nath.
Marwari Bridal Nath – Also known as Danda, it is essentially a traditional bridal nath that has historically been made with 2 white pearls sandwiching a red one on a round gold hoop.
Why is a Maharashtrian Nath different?
Maharashtrian Naths, also known as Brahmi naths are different from Rajasthani Naths in the way that they are primarily studded with a comparatively large single gemstone, which is surrounded by pearls. Made in gold, these naths are worn by women during their wedding ceremonies, and for all auspicious occasions.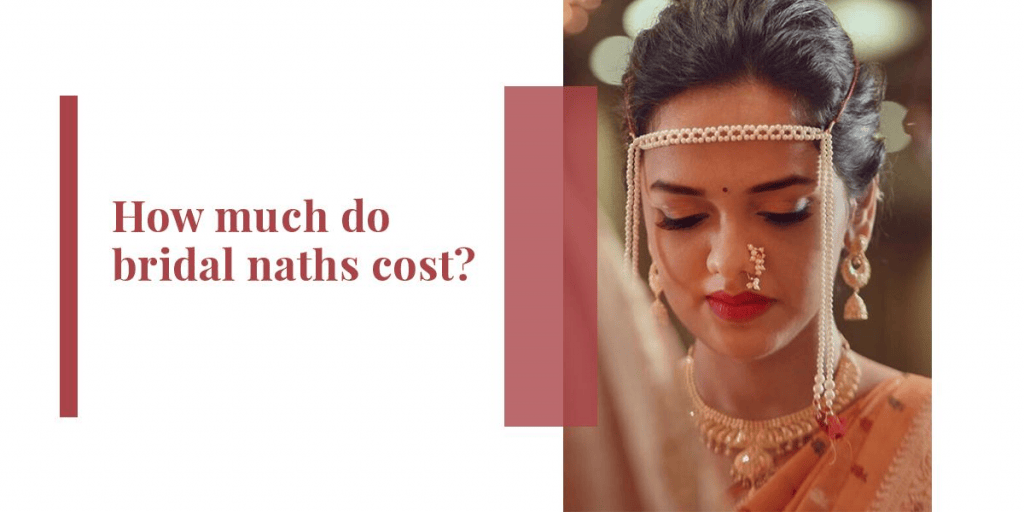 What is a bridal nath?
A bridal nath is a large hoop made of gold, crafted with diamonds, semi-precious stones, beads and/or Kundan. A bridal nath is often accompanied by a chain that can be hooked or pinned up in the hair. At KuberBox, we have a wide range of Bridal Naths including the Rhea Bridal Nath and Bindu Bridal Danda.
How much do bridal naths cost?
At KuberBox, you can easily find a Bridal Nath for as low as Rs. 10,000 and onwards.
Do bridal nose rings always come with a chain?
No. Only some bridal nose rings come with a chain. Contemporary bridal nose rings, especially diamond nose rings are not accompanied by a chain.
Now that we have answered a vast majority of the FAQs on Nose Rings, we hope you have no doubts or queries in your mind anymore, and that you are all set to shop for some of the most astounding nose-rings designs from your favourite jewellery destination – KuberBox!
Ultimate Diamond Nose Ring & Nath Guide – 50+ Questions Answered on Nose Rings, Nose Hoops, Naths & Septum Nose Rings
by
Team KuberBox
Comments
comments