Raksha Bandhan – Plan Your Rakhi Gift Now
Reading Time:
6
minutes
Rakhi or Raksha Bandhan needs no introduction in India. As the sacred festival that celebrates the brother – sister bond, Rakhi is a much-anticipated event for most families. The anticipation of a wonderful RAKHI GIFT adds to the excitement. Scheduled this year on 26th August 2018, it's about time to start planning the big occasion.
HISTORY OF RAKSHA BANDHAN
So how did the tradition of tying a Rakhi around brother's wrist by sisters come into being? Well, there are many legends which may be able to answer this for you. There are myths and legends based on Indra Dev, Santoshi Maa, Krishna-Draupadi, Yama-Yamuna and King Bali & Goddess Lakshmi with respect to how Raksha Bandhan is celebrated.

MEANING OF RAKHI
A sister ties the Rakhi thread around the wrist of her brothers & pray for the success and well-being of her brother. She also puts red tilak on the brothers' forehead and offers them a sweet. In return, the brothers pledge to always care for & protect their sister. The brothers, then, goes on to offer the Rakhi Gift for their sister.
RAKSHA BANDHAN & SECULARITY
Raksha Bandhan has gone on to become a true secular festival with people of various communities celebrating this grand brother-sister event. Originally a Hindu festival, it is now celebrated across India by most communities. It's also celebrated in some of the neighbouring Hindu countries like Nepal. What's amazing to note is that the concept of Raksha Bandhan has crossed the "same-blood" barrier & one can now find even the non-biological brothers & sisters celebrating Raksha Bandhan with equal flavour. This has also given rise to a modern parlance – Rakhi Brother & Rakhi Sister. This is usually used to refer to one's brother/sister with whom one doesn't have a blood relation, rather more of a symbolic relationship.
Buy Rakhi Gift For Sister || Buy Gold Rakhi For Brother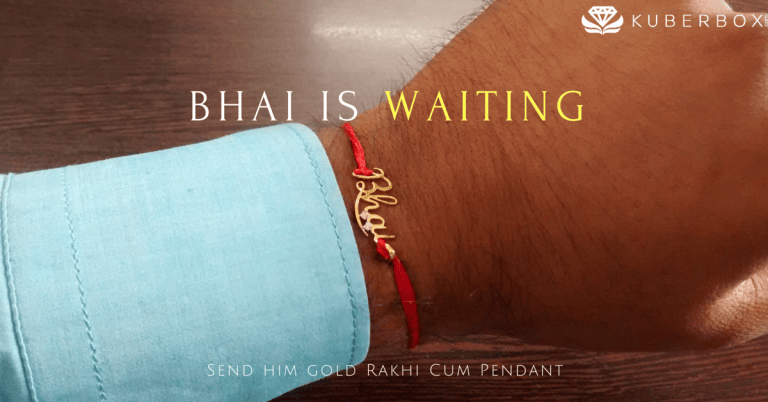 PREPARATIONS FOR RAKHI BY SISTERS
The preparations for Rakhi begin much before the actual festival. The sisters visit shops to buy colourful Rakhis and a set of Roli-Chawal for her brother. If the siblings are geographically separated, sisters generally mail or courier the package to her brother. If the brother is younger to the sister, the sister typically also sends some Rakhi gifts to brother, with popular gifts being chocolates, tech-toys & fashion accessories. For example, our Bajrangi Silver Pendant was a huge draw for Raksha-Bandhan gift during last year's Rakhi Gifting. As with any other traditions, the norms are changing & we are witnessing sisters sending gifts for brothers like religious pendants, gold cuff links, men's ear studs and other varieties of Men's Jewellery increasingly as Rakhi Gifts for brothers.
1. Divine Gold Rakhi Cum Pendant
Sisters, listen up. What if you could send something special as Rakhi to your brother? Not the usual shimmery glittery ones. Well, our gold religious Rakhi pieces are sure to win every brother's heart. These gold diamond religious rakhis are delivered in attractive packaging with the red thread that can be used to tie the Rakhi. Once the festival is over, the threads can be removed and the same rakhi can be worn as a diamond pendant by inserting into a chain.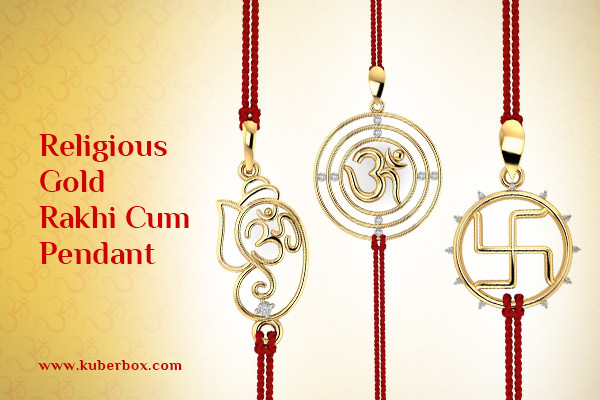 [magento store="1″ sku="RA1999,RA2000,RA2001,RA2004,RA2007,RA2008,RA2012,RA2013,RA2057,RA2034,RA2040,RA2046,RA2025,RA2030,RA2031,RA2035,RA2037,RA2038,RA2041,RA2042,RA2044,RA2045,RA2046,RA2051,RA2053,RA2058″ prefix="INR " suffix="" title="h8″]
2. Animal Themed Rakhi For The Kiddo Brother
If you have a kid brother who means the world to you, you would definitely want to gift him one of our Kids Gold Rakhis. The kid's gold rakhi collection from KuberBox has two animal-shaped rakhis. Again these rakhis can also be used as pendants – the Bear Gold Rakhi for Kids & the Bee Gold Rakhi for Kids.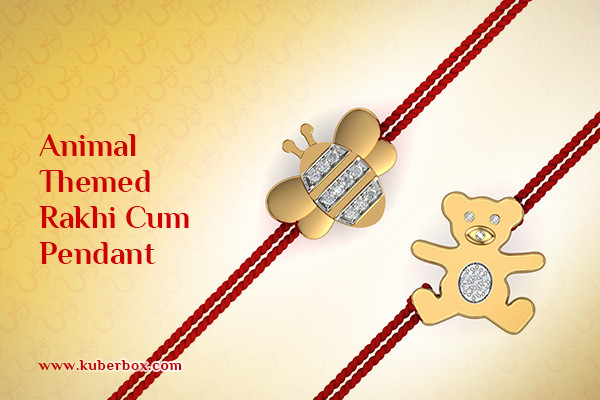 In 2018, we also introduced the Superhero Rakhis and the Kids Enameled Rakhis, because lot of kids wanted something that is more fun and more relatable. That gave way to our new rakhis such as the Baby Elephant Rakhi, The Joyous Bear Rakhi & The Pepppa Pig Rakhi.
[magento store="1″ sku="RA2002,RA2003,RA2017,RA2022,RA2027,RA2032,RA2039,RA2047,RA2048,RA2054,RA2055," prefix="INR " suffix="" title="h8″]
If the usual religious rakhis don't make a cut for you, these personalised gold rakhis are sure to find a favour with you. This personalised gold rakhi cum pendant can be customised for any initial. What's more is that it can later be used as a pendant. So, just select the initials of your brother's name & go ahead & order this.
[magento store="1″ sku="RA2009,RA2011,RA2020″ prefix="INR " suffix="" title="h8″]
4. BHAI lettered Gold Rakhi Pendant
The BHAI gold rakhi is the most fun gift rakhi you can send your brother. The classic curvy styled BHAI word studded with two diamonds is a perfect rakhi option for your brother.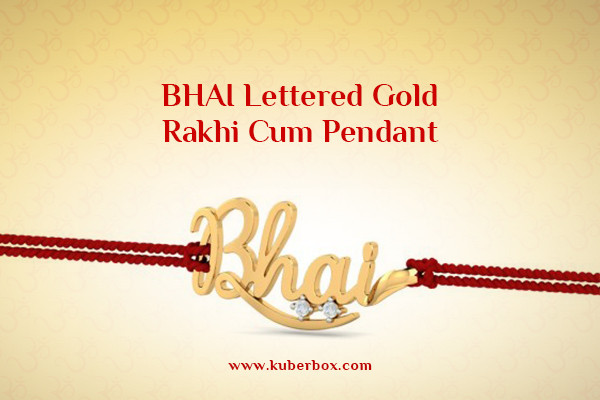 [magento store="1″ sku="RA2014,RA2010,RA2018,RA2019,RA2033,RA2043,RA2036," prefix="INR " suffix="" title="h8″]
If modern motifs are something that you like, we have some rakhi designs that will definitely allure you. These designer gold rakhis have an attractive design & would look really attractive on your brother's wrists. Stand out & Gift your brother a Real Gold Rakhi this Raksha Bandhan.
[magento store="1″ sku="RA2005,RA2006,RA2015,RA2016,RA2023,RA2024,RA2026,RA2028,RA2029,RA2056,RA2049,RA2050,RA2052″ prefix="INR " suffix="" title="h8″]
RAKHI PREPARATION BY BROTHERS
This being the most important part of the whole celebration, sit up and start taking notes, dear brothers. The sisters anticipate that their brothers would splurge and fulfil her sister's wishlists. Younger sisters, especially, expect their elder brothers to fulfil their wishes- maybe of a new phone or a piece of dainty diamond trinkets. Whatever it may be, the brother has to stand up to the occasion. And, this is what constitutes one of the most fun-filled parts of this grand Rakhi celebration. Needless to say, the one thing that consistently appears at the top of all the wishlists is JEWELLERY. Nothing makes your sister happier than a piece of shimmering diamond jewellery. And with the light-weight jewellery collection from Kuberbox starting at Rs. 2500, we have something for every sister in our online store.
A woman can never have enough jewellery. So why not pamper your sister with a glittering diamond jewellery on this special day and shower your love on her. Every brother feels proud to be able to fulfil her sister's desires and if you are in that position, make the best of it. KuberBox has really trendy contemporary designs that are liked by thousands of women. Just browse the website, shortlist a few designs, take the help of your female colleagues or friends and then decide upon a scintillating piece. We will make it with love, just for your sister. To help you select faster, we have done some filtering based on category and prices. Check out the tabs below and click on them to browse corresponding jewellery designs.
With the emergence of e-commerce, the Rakhi gifting for brothers is getting easier. With a myriad of options to choose from, one can literally gift anything to her sister. When you buy jewellery from Kuberbox, they are delivered in attractive wooden finish jewellery boxes (which are really appreciated by our customers). Further, you can add a custom gift message and ask us to gift wrap the order for no extra charge. These services are offered free of cost.
Nothing better than a personalised jewellery for your sister, a piece that speaks about your strong bond. Ask us to custom make a piece of jewellery as per your design concept and we will bring your imagination to life.
Just fill up this form below & we shall get back to you.
Raksha Bandhan - Plan Your Rakhi Gift Now
by
Sourav
Comments
comments