Popular Jewellery Terms & Words – Spruce Up Your Jewellery Vocabulary
Reading Time:
6
minutes
Are you a jewellery lover who always reaches the store only to be bombarded by words and terminology used to sell a piece? Take for example, "This ring has "melee diamonds" or perhaps "Through these facets, you can see" and so on and so forth.
Have no fear as this post will make you the most informed #jewellery #shopper you have ever been. Wouldn't it feel nice to be able to walk into a store, ask the right questions to help the salesperson direct you to the correct piece, not only saving time but a lot of effort and frustration in the process?

Here are the terms we think you should know and will definitely help you when buying jewellery, making you breeze through the process.
Karat (K)
Karat is the unit used to measure the purity of gold. In its purest form, 24 Karat (K) gold is so soft; you could leave an impression on it with your finger. 24K gold is also generally used for bars or coins. Other elements like copper and silver are added to the gold making it an alloy, which increases its strength and durability. This makes it ideal for use in jewellery like 22K or 18K gold, which we at KuberBox specialise in. Find out more about the different karats of gold used in jewellery and their classification.
Here is a table on the different purities of gold and its corresponding percentages.
Carat (ct)
Carat pronounced in the same way as Karat, it is the unit used to measure the weight of any gemstone. Derived from the carob seed, which consistently weighed exactly the same as the other seed. A hundred cents (or points) make up 1 Carat. So when asked the question "what carat/pointer/cent gem you are looking for", you can now answer with confidence.
Solitaires
Solitaires are by definition a jewellery piece, which has a single main gem. The term is used more with diamonds than gemstones.
Mélee Diamonds
Melee Diamonds are small diamonds that vary in carat weight from 0.001 to 0.18 carats. These stones are often seen on rings and earrings supporting the centre stone giving the piece its shimmer.
Setting
Diamond Setting or Gemstone Setting is when the gemstone has been secured in position by the metal used in the piece. There is a range of different setting styles like:
Prong Setting is when the gemstone is secured by strong prongs from the edge of the gemstone. These prongs look like claws and are fabricated in strong gold. They are the only parts that secure the gem in place.
Bezel setting is when the gemstone is secured in place by a thin metal strip around its edge.
Channel setting is when the gemstone is held in place within a grooved channel.
Pavé setting is the setting style in which small stones are set close together and appear to be a honeycomb of gems. A very common setting style seen in most jewellery.
Gold Hallmarking
Gold Hallmarking is a stamp imprinted on a jewellery piece that indicates the purity of gold (or its Karatage), its trademark, and other information about the manufacturer. Curious to know what each mark represents, read the KuberBox blog on all the different aspects of hallmarked gold jewellery.
Finish
Finish is another big aspect when it comes to jewellery. Finish is the final polish given to the metal. There are many different types that can be achieved on precious metal which are:
Frosted Gold which is the finish achieved on gold that appears to be like frosted glass.
Matt Finish is when the gold is made to look dull, without shine but still retains its warm yellow hue.
Hammered Finish is achieved by beating the metal, leaving small, underlying portions on the gold.
High Finish is the finish where the gold is given a mirror-like glossy appearance.
The Navratna is a collection of 9 gems, both precious and semi-precious that together are believed to guide the 9 planets. This navratna is assumed to bring its wearer peace and happiness.
Birthstones
With every month having its own assigned Birthstone, they are known to bring a sacred aura to its wearer.
January Birthstone – Garnet
February Birthstone – Amethyst
March Birthstone – Aquamarine
June Birthstone – Moonstone
December Birthstone – Turquoise
Treated and Untreated stones
Treated & Untreated stones have both become terms you will constantly hear when buying gemstones studded in jewellery. Today stones are being treated to improve and enhance their natural characteristics, which in turn make them less valuable and rare. Untreated stones, on the other hand, sell at high premiums, as beautiful stones untouched by man are hard to find.
Facets
Facets are the polished surfaces seen on a gemstone that were designed to allow light to enter and leave the gem. Facets have been engineered over the years from humble beginnings reaching today's popularly known Round Brilliant Cut (RBC), with 58 facets this cut allows maximum light to enter, reflect off each other, and then leave the stone. There are many other cuts like the Marquise Brilliant Cut, the Emerald Cut, the Oval Brilliant Cut, the Heart Brilliant Cut to mention a few.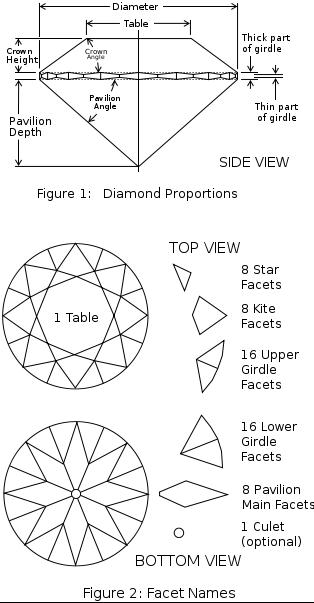 Enamel
Enamel used heavily in traditional Indian jewellery, is made of glass that has been finely ground with colour compounds that when heated transforms into a smooth coloured surface. Enamel work is also called Meenakari in India.
Checkout the meenakari jewellery by KuberBox – MEENAmalistic Collection
Plating
Gold / Rhodium Plating is currently a trend on the market. Many manufacturers dip less valuable metals into gold or rhodium giving the appearance of a fine metal. These remain thin layers that can wear away with constant wear and tear.
Gross or Net Weight
When you finalise a piece of jewellery, it's always important to understand the difference between Gross Weight and Net Gross Weight. The former being only the gold weight without the carat weight of the gemstones set within it and the latter is the gold weight in all its totality, including both gemstones and gold weight in grams.
3D CAD
Jewellery design can be done in many different ways today. From 3D CAD to the old school Hand Design. But what is 3D Computer Aided Design? It is the software that can convert 2D images into a 3D Jewellery piece with a life-like appearance.
Clasp
Securing your jewellery is very important and using a Lobster Clasp or a Springring Clasp. The clasps will keep your necklaces and bracelets in place. They both connect into a ring on the other end opening only when the spring has been lifted.
Ring Anatomy
A Ring is made up different sections from its:
head – the central part of the ring,
shoulders – the portion of the ring generally with accent stones, supporting the head,
shank which is the band that wraps around the finger
setting styles
References:
http://www.popsugar.com/fashion/Diamond-Carat-Size-Pictures-36415355?stream_view=1#photo-36415359
http://www.gia.edu/gems-gemology/spring-2006-identification-lead-glass-filled-rubies-mcclure
http://www.burkemuseum.org/blog/curated/science-and-legends-birthstones
Popular Jewellery Terms & Words - Spruce Up Your Jewellery Vocabulary
by
Chantelle
Comments
comments