KuberBox Guide: Caring for your Jewels
Reading Time:
6
minutes
Jewellery should always be handled with care. From the time you buy the jewellery it should always be handled with care. There are various methods to clean and maintain jewellery after the purchase of the jewellery. Harder gemstones like diamonds and sapphires, which you will also learn about through this programme, tend to scratch other softer gems. Fine metals, which are commonly used in jewellery, can, in turn, take a toll on your gemstones. It is important for you to know the necessity to care for your jewellery. Jewellery should always be kept individually without hitting or rubbing against another.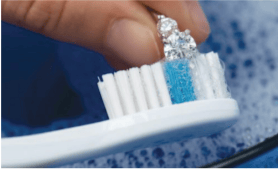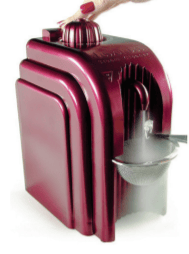 KuberBox Guide: Caring for your Jewels 10
Our KuberBox packaging doubles up as fantastic jewellery storage boxes and also they look bold and beautiful. Chains and bracelets should also be kept separately as they can scratch gemstones or other pieces and can entangle with each other which can damage the links. Many jewellery stores have their own in store cleaning machines like the ultrasonic and steam cleaner which are very effective in removing dirt and grime from those hard to reach areas. The ultrasonic machine sends high frequency sounds waves through a liquid soapy solution, which shakes the dirt out. It can also cause gems to move in their setting because of the high frequency. Stones quite regularly fall out in the ultrasonic machine if not set firmly. A secure way of cleaning can be with a fine mesh under that can catch small stones that fall out of their setting.
A steam cleaner is another professional machine available in jewellery stores to clean jewellery. It uses high-pressure steam to remove dirt from tiny cracks and crevices. This machine, because of its powerful steam, can burn or hurt you and must always be used with tweezers and at a safe distance to minimize the damage caused. Although these methods clean jewellery quite effectively, they can damage stones in the process. Constant cleaning of pearls and other gemstones like corals, lapis, emeralds, opals and turquoise that are very vulnerable to damage could destroy the beauty of the gem. Filled stones like emeralds and diamonds can also lose their filling in this process and come out looking dull and different. Chlorine water that is used in swimming pools can damage your jewellery to a significant extent when exposed for long periods, which is why you should always remove your precious jewellery when dipping into the pool for a swim. The chlorine can cause the metal to pit reducing its lustre and also becoming weak. With our KuberBox setup, you can return your jewellery for a deep clean once a year, although a quick fix at home when it comes to dirty jewellery is using soapy warm water in a bowl with and old soft bristle toothbrush on a clean and clear table is your best option as it helps you to remove all the grime stuck on the setting and other small crevices that cannot be seen with the eye. These days there are also numerous polishing cloths used to polish your gold and silver, though this could sometimes scratch the metal as well. Sterling silver must be protected as it can oxidise in the air because of the sulphur present in the atmosphere. These days pouches are available that prevent the metal from tarnishing and are not too expensive to buy and are great to store your jewellery. Anti-tarnish liquids are also becoming a common cleaning technique and are being sold in most general stores.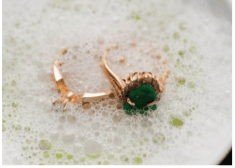 Cleaning your jewellery should be a yearly ritual if not earlier because daily wear can cause your jewels to attract dirt and grime. Being part of the KuberBox customer base, you are entitled to a one-year free service period. During this time you can return pieces if they need any sort of fixing or cleaning done to their jewellery, which is all covered by KuberBox. It is important to note that you must take care of your jewellery for it to look nice for longer periods. We encourage you to do regular checks of your precious jewellery and know the benefits of storing your jewellery correctly.
REPAIR AND REMOUNTING
As with everything we love and cherish everyone likes to maintain their jewellery over long periods of time. Jewellery pieces are ideal for this as they are, in most cases passed down over generations. In order to be able to pass jewellery onward, it should be in perfect condition without missing stones, etc. Jewellery should thus be checked at your jeweller's premises whenever you feel. This makes sure each prong that clasps gemstones being diamonds, emeralds, rubies, amethysts or any from a vast array of gemstones are in perfect condition and not hampering the security of the gem. Losing a gem that has great emotional and monetary value attached to it could take a toll on your wallet. Thus, regular checks are important.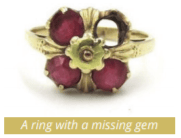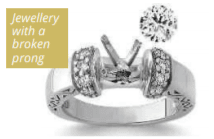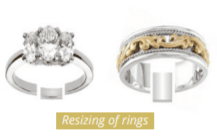 Repairs could entail remounting of gemstones, wherein the gemstones are removed from their current setting and are reset in a new collet or perhaps prong arrangement so that the stones do not fall out of their setting. Resizing is a common reason for which jewellery is brought back to us. Metal after much wear and tear could become larger in size or misshaped becoming tight or perhaps even loose. Bench jewellers are perfect for this as they can mould the metal to shape by stretching, sawing or soldering as per the requirement. Some setting styles as we have already covered are more tedious to repair than others because of their complex setting styles.
Repairing a prong or bezel setting can alternatively be re-tipped with a matching metal, giving the jewellery piece the same effect as before without much difference. Whenever additional metal is used for repair, it usually isn't done free of charge and needs to be borne by the customer. When giving jewellery for any sort of repairs you must be sure to clearly note each item and the part that is damaged with you. Wrong repair and misplaced pieces could become a massive problem if there is no record to verify against. Ask your jeweller to provide you with a "Repair Sheet" where you can mention the state of the old jewellery and repairs required thereof. Using this sheet, you will be able to check all the repairs articulately. Therefore, this would ensure that the correct repairs are carried out for the piece.
How to remove tarnish from Jewellery: KuberBox Guide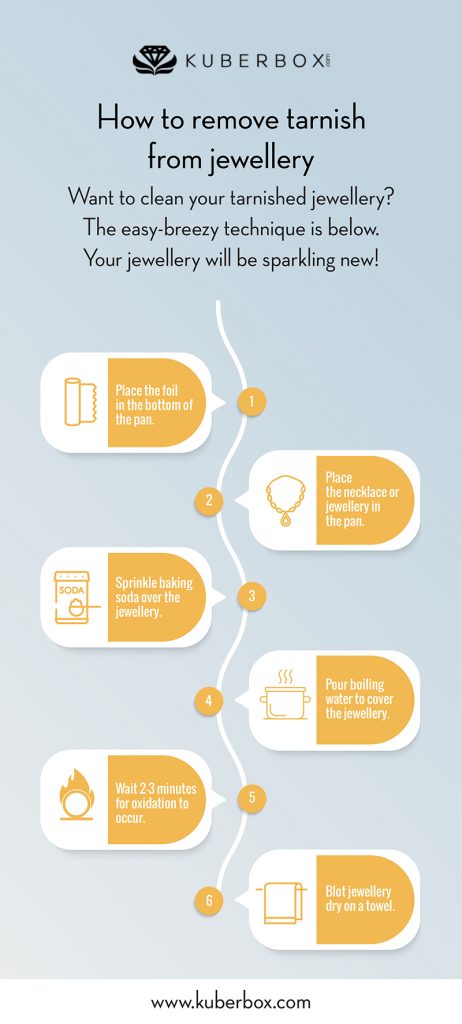 FAQ:
How do I keep my jewellery safe?
Jewellery should always be kept individually without hitting or rubbing against another. Our KuberBox packaging doubles up as fantastic jewellery storage boxes and a great selling point for our jewellery. Chains and bracelets should also be kept separately as they can scratch gemstones or other pieces and can entangle with each other which can damage the links.
2. How do you clean jewelry naturally?
The best homemade jewellery cleaning solution is a mixture of a few drops of dish detergent in warm, not hot, water. Let the piece sit in the solution for a few minutes, rinse and place the jewellery in a new container of lukewarm water, then gently wipe it with a new, micro-fibre cloth.
KuberBox Guide: Caring for your Jewels
by
Team KuberBox
Comments
comments