Customized Initials Cufflinks In Gold – Personalized & Custom-made
Reading Time:
5
minutes
For men, there are not many accessories or jewellery that they can flaunt. Women have something for most of their body parts which give them the chance to show their individualism through the accessories that they choose. Men can go as far as sporting ear studs, rings, pendants & more recently, nose rings. There are accessories like Tie Clips, Kurta Buttons, Brooches and Cufflinks which are the only available ammunition for the dapper man. With our personalized Initials Cufflinks, you can take your game a notch higher.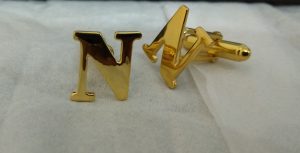 Every man needs a good pair of cufflinks that they can pair with their suit shirts & exclusive formal shirts. Sporting the cufflinks gives the stylish men an additional avenue to showcase their individualistic style. In the end, accessories are all about your unique style. Your choice of accessories tells a lot about your style quotient.
These customized gold cufflinks incorporate the person's initials in the design and they signify the identity of the indiviudal. Initials cufflinks are also called by other names like Monogram Cufflinks, Alphabet Cufflinks or Letter Cufflinks. Later in this post, we will tell you about different types of initials cufflinks.
Initials Cufflinks as Gift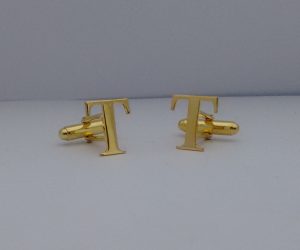 Customized Gold Cufflinks are HOT gift items for men. We have all faced difficulties when it comes to picking up something for the males in our lives. Our personalized initial cufflinks make things a tad interesting. Be it your dad, brother, husband or any male friend, Cufflinks are an ideal gift for any male adult. Customize them with their initials and bang, you've got the perfect gift to make them happy.

Different Types of Initials Cufflinks
Cufflinks with initials can be made in numerous ways and we have made a few in the past. Like our customised name pendants, this product idea has come from our customers and we are just happy implementing their ideas and converting them into reality. Virtually anything is possible when making customized cufflinks. You can always lead the way by explaining your requirements. Submit a request for initials cufflinks
There are literally N number of ways in which you could design the monogram cufflinks. Let us walk you through some standard design formats –
Simple Initials Cufflinks
Choose a suitable font style for the initials and you are good to go. Only the initial in its rawest form forms the design for this type of cufflinks. You can either have the same initials for both the cuffs, or you may choose to have one initial representing the name while the other initial for the surname.
Enclosed Initials Cufflinks
The simple initials cufflinks can be evolved into its enclosed variant. Here, the initial is enclosed inside a regular or irregular shape to provide a fixed boundary to the design. Further, having a regular shape outside makes the cufflinks wearer-friendly. With this, there are minimal chances of the wearer getting hurt from the sharp edges of the alphabets.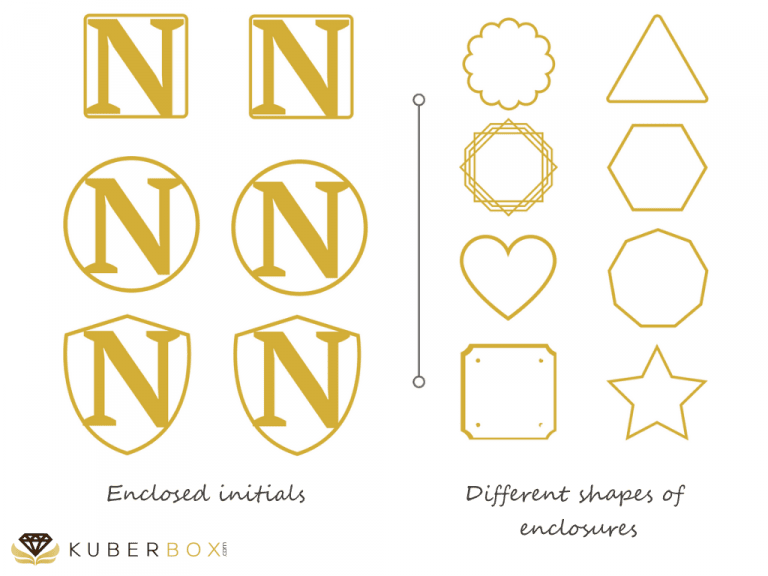 Initial Cut-out Cufflinks
When the initial is cut-out from a metal plate, the plate will bear a hollow in the shape of the letter. Further, we can experiment with the font for new and interesting styles.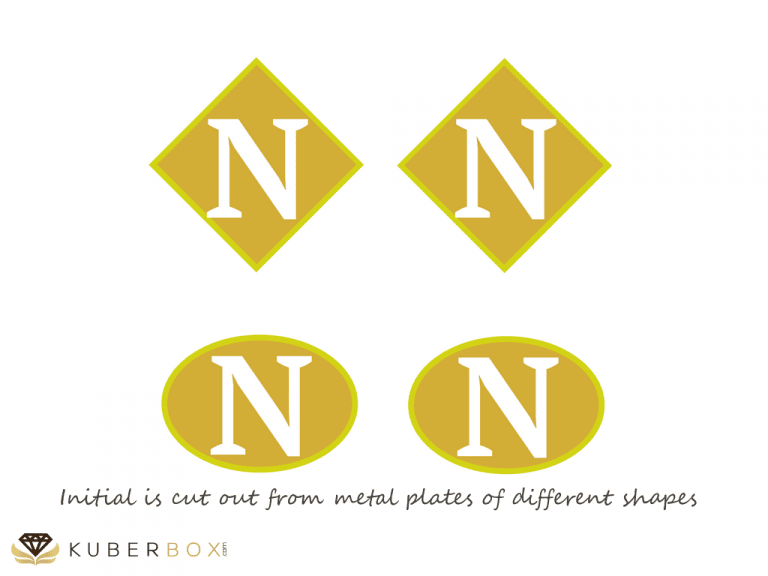 Enameled Initial Cufflinks
One way to add a tinge of royalty to the initials cufflinks is to enamel them in different colours, mainly black. Either the initials or the initial's background can be enamelled to create exciting new cufflinks.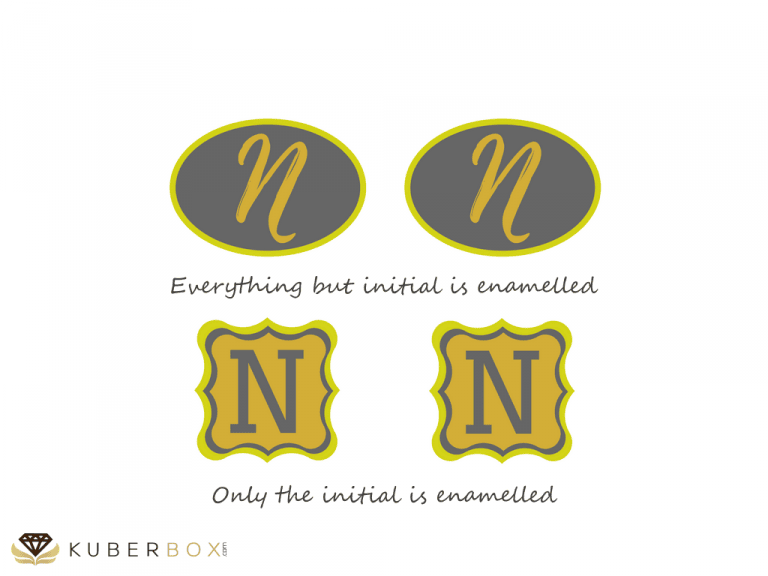 Diamond Studded Initials Cufflinks
There are many ways of adding diamonds in initials cufflinks. The initial can be studded, or the part but the initial can be studded. It's also possible to add a solo large diamond to enhance the appeal.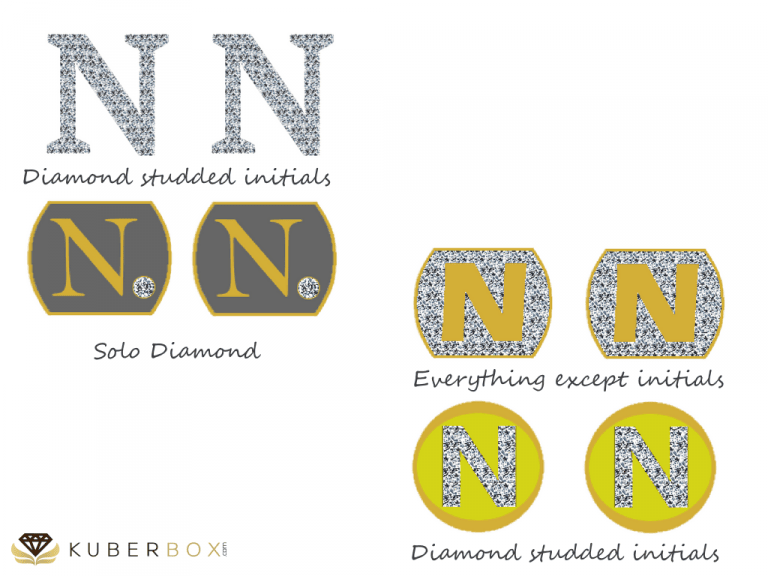 Engraved or Embossed Initials Cufflinks
This is similar to cut-out cufflinks, except the gold is not entirely cut out. The initial letter is engraved using specialised laser machines to get the desired effect. For embossing, the initial is carved out by hand using different tools like hammer & chisel.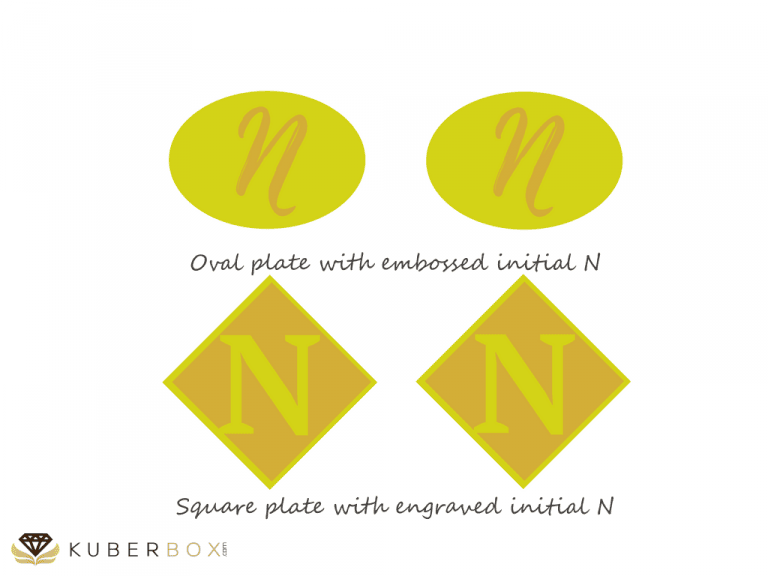 You may also experiment with other varieties like –
Two initials on the same cuffs. Probably create a monogram using 2 or 3 initials and then wear that as a cufflink. There are numerous apps on the Google Playstore and the Apple Appstore that lets you create monograms. That could be a good start for ideas.
Mismatched initial cufflinks – Either of the cuffs can have entirely different designing & thought process. Would be fun no?
Predesigned Gold Cufflinks – Check out KuberBox's Gold Cufflinks collection online.
Male-Female Cufflinks – What if you could wear the initial cut-out cufflinks on one side while the simple initial on the other? It'd look like you are wearing the male part on one hand and the female part on the other.
How to Order Initials Cufflinks in Gold
KuberBox gives you an option to customize gold cufflinks and you can contact us with your requirements. We can make them in any variety including the ones mentioned above. You can reach us through
Gold Cufflinks Gallery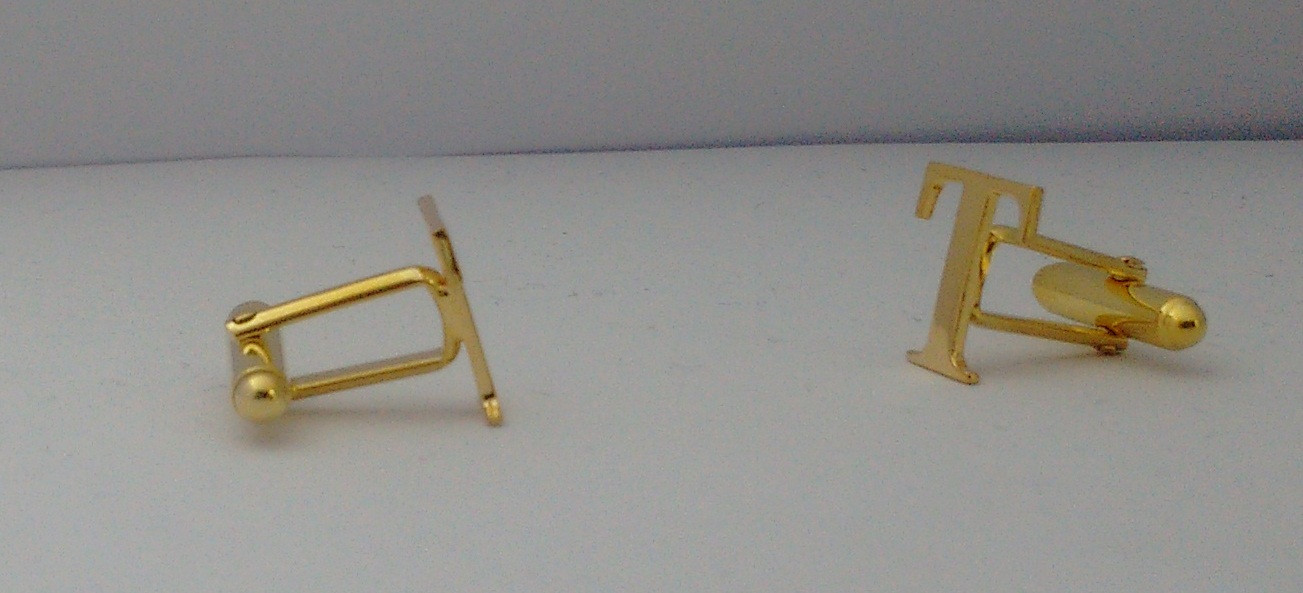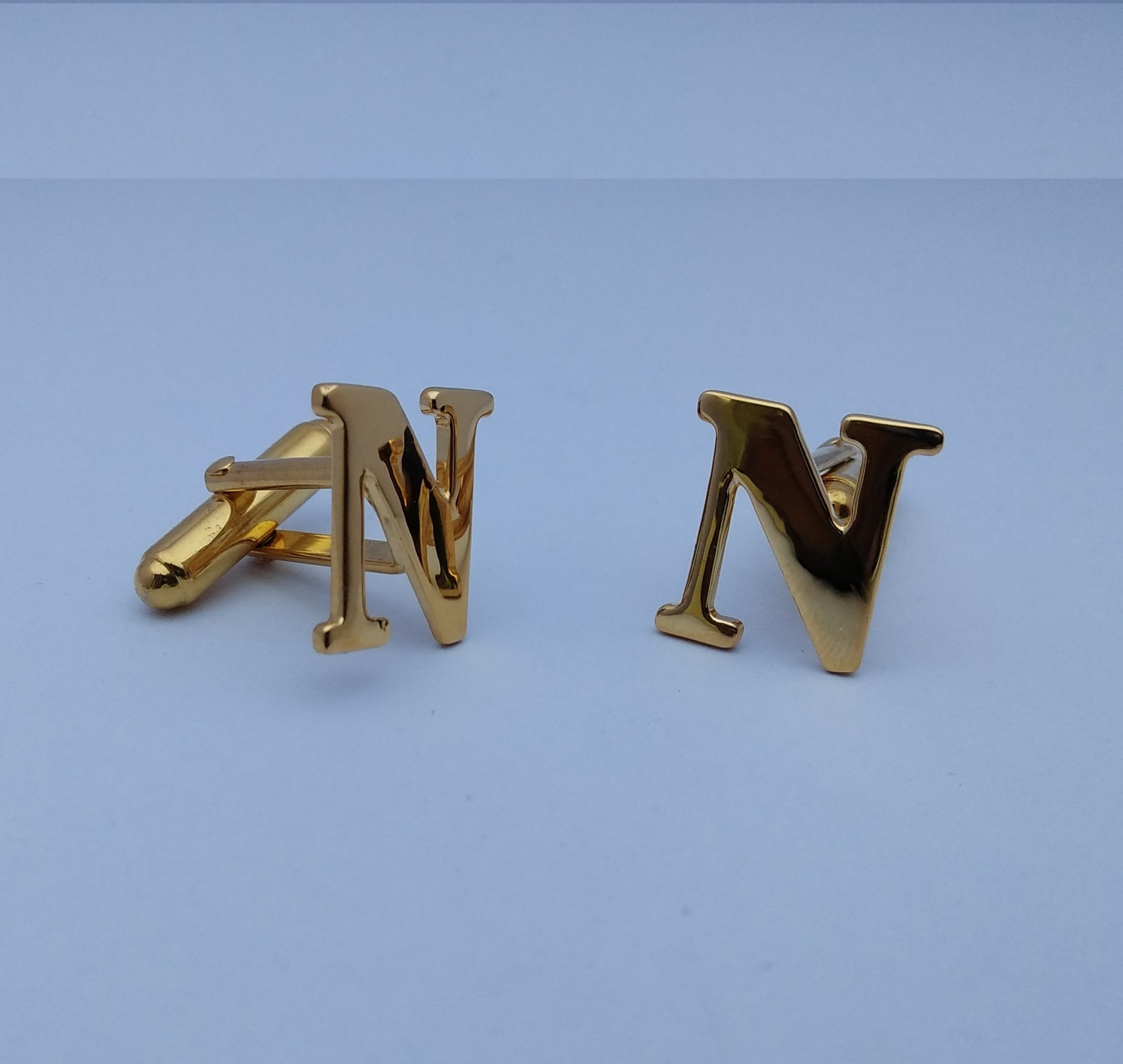 P.S. – These are unedited raw images clicked from a smartphone camera.
Submit Custom-made Initials Cufflinks Request
Customized Initials Cufflinks In Gold - Personalized & Custom-made
by
Team KuberBox
Comments
comments