Celebrate Raksha Bandhan with Silver Rakhis Online
Reading Time:
4
minutes
As one of the most important festivals to be celebrated in India, Raksha Bandhan observes the bond between a sister and a brother. And while that is the traditional meaning of the festival, Rakhis are also tied to people one knows: from close family friends, sister-in-law, and neighbors.
Truly, it is about building, or showing, love between them as well as wishing well for them.
This festival is celebrated on the Purnima Tithi (full moon day) in the month of Shravan, which in 2020 will be the 3rd of August. To be exact it begins at 9.28pm on the 2nd of August and ends at 9.28pm on the 3rd of August.
Celebrate Raksha Bandhan in style
If you are looking for a way to celebrate this festival in style and show your brother how much they mean to you, Kuberbox offers a range of silver Rakhis.
Types of silver Rakhi
We offer a wide range of silver Rakhi, from the religious and the traditional to the quirky and the modern patterns.
Even in this current time of isolation, it's still possible to send beautiful silver Rakhis anywhere in the world. With Kuberbox's online store, you can get Rakhi that are 92.5% of silver. And we are able to ship to USA, Canada, Dubai, UK, Australia, to name a few countries.
Religious Rakhi
Here are some of our exquisite religious-theme Rakhi for your consideration:
Aum Rum/Om Silver Rakhi Pendants
The Aum Rum silver Rakhi has an Om symbol inscribed in a round frame with a treated ruby gemstone. Our other Om Rakhi include: the Om symbol inscribed in a 13mm diameter round frame, and a silver frame with a silver cutwork Om symbol.
These Rakhi come with the threads so that they can also be worn as pendants.
Ganesha Om Silver Rakhi Pendants
Kuberbox offers a range of Ganesh-inspired Rakhi pendants. From the cutwork Ganesha inside a 13mm diameter round frame, to the Ganesha Om and the combination Lord Ganesha and Krishna pendant. These Rakhis all come with threads and can be used as pendants.
Swastika Silver Rakhi Pendants
We offer two types of Swastika Rakhi pendants. One is a silver Swastika inscribed in a frame 13mm in diameter. The other is a Swastika in a hexagonal frame; it is in yellow polish in a silver base, and the Rakhi is made appealing with a dual polish.
The Shiva Rakhi has four small thrishuls in yellow polish on a round silver base frame. The pattern on this particular Rakhi is Shiva and Om with a dual polish.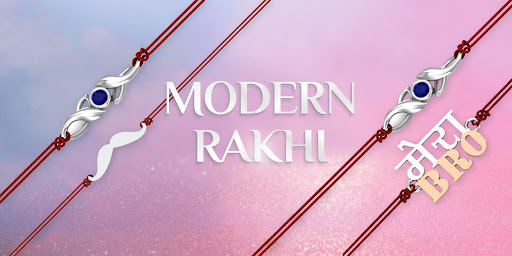 Modern Rakhi
Modern Rakhi are a little more fun, and sometimes quirky too. From moustache Rakhis to ones that simply say "Bro".
This modern, quirky Rakhi, is also a brooch shaped like a moustache. All you need to do is attach a safety pun, and after Rakhi it can worn like a brooch.
Our range of modern sleek pendants include:
an elegant, minimalist Rakhi of blue lolite stones studded at its center.
A classy pendant with the engraving Veer (brother in Punjabi).
For your NRI bhai, a quirky silver pattern.
Each of these come with threads so after Rakhi these can be turned into a pendant.
For something a little quirkier, but to the point, we offer a couple of Bro Rakhi pendants. One has Bro in English with a yellow finish and polished silver finished. The other is a glittering silver Rakhi with the words "Best Bro" adorned by motifs and stars.
Both of these Rakhi come with threads so that after Rakhi they can be worn as pendants.
Silver Rakhis to celebrate Raksha Bandhan
With this celebration right around the corner, now's a great time to pick an elegant silver Rakhi for your brother, or loved one.
Quality work for the best prices
You don't need to break the bank to celebrate this festival, Kuberbox guarantee our Rakhi jewelry will be the most affordable when compared to comparable offline and online jewelers.
All of Kuberbox's items are internationally certified, so you are guaranteed the best quality when your buy from us. And, in the rare instance you or the recipient isn't happy with the piece, we do offer a No-Questions-Asked 30-day return policy.
No matter where you and your brother or loved one are, it's never been easier to send the ideal Rakhi. Even with the current global situation, you can send a gift already wrapped and packaged beautifully.
If you would like to know more about Kuberbox's range of silver Rakhis, or if you have any questions about international shipping, please contact our friendly sales team today.
Celebrate Raksha Bandhan with Silver Rakhis Online
by
Team KuberBox
Comments
comments