A Sapphire This September? #BirthStone
Reading Time:
7
minutes
Are you born in the month of September? And do you feel like you deserve something small yet beautiful and elegant to treat yourself this birthday month?
Have no fear! In our KuberBox Gemstone Jewellery range, we have just the right jewellery piece to get your senses aroused. The vivid blues of the Sapphire's in our treasury will surely make heads turn when they see you walk in with your new jewellery pieces.
Sapphires get their name from the Greek word "sappheiros", having originated from Sanskrit, which translates to "precious stones". In India these heavenly stones are commonly known as नीलम, which is symbolic of their radiant blue colour. Neelam is astrologically said to govern the planet Saturn one of the most powerful planets in our solar system. This is also the main reason why Sapphires are part of the Navratna, which is said to guide an individual based on the ruing planets.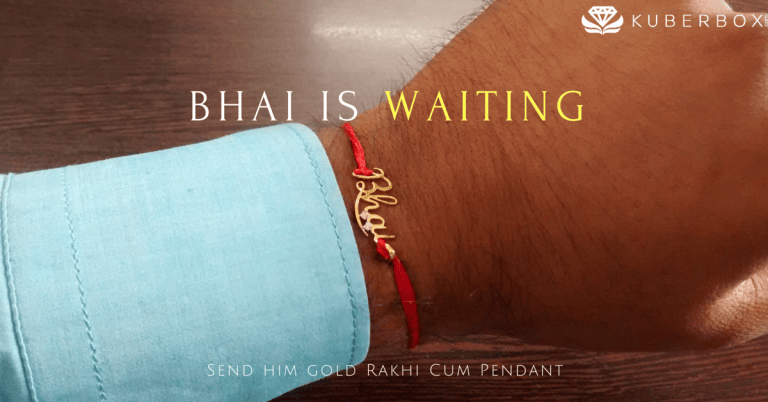 Sapphires form in the hexagonal crystal structure and can sometimes get twinned to each other during growth. These crystals form bipyramids, which can sometimes be sold for very high values at the auctions.
Sapphires are dichroic, which means it is made of two colours and is a doubly refractive stone. Sapphires come in violetish blue and greenish blue colour range although the former ones are much more valuable. Sapphires take a single ray of light and spilt it into two rays, which is why you will see doubling at facet junctions as well.
image credit – www.geminterest.com
Sapphire gemstones are known for their strength and powerful forces. Symbolic of romance and faithfulness, Sapphires are truly the perfect gems to be gifted during the time of a serious commitment. They are also the preferred gems at engagements as the stone is figurative for loyalty.
The priests wore sapphires during the times of the Greeks and the Romans to symbolise the heavens, which isn't a surprise as Sapphires come in every colour range seen in the skies above. From the light blue shades of the morning skies to the deep blue colours seen in evening after the setting of the sun, this magical gemstone is the perfect representation of the heavens.
This fine-looking gemstone is a variety of the Corundum species that is mother to the well-known Ruby (you can read all about the gemstone Ruby on our blog). The name Sapphire is used to represent the vaste colour ranges of corundum's, other than its Blue colour. For eg. Pink corundums, Green corundums, and Yellow corundums to name a few are all followed by the variety name Sapphire. When used alone, Sapphires always refer solely to the blue variety of this mighty gem. These blues get their famed colour by the trace elements Iron and Titanium that combine with the stones chemical composition being Aluminium oxides (Al2O3).
These stones are ideal for use in jewellery because of their remarkable strength. Ranking 9 on the Moh's scale of hardness, Sapphires are strong and durable and can handle a good amount of wear and tear. Because of its good hardness these stones take on a brilliant lustre when given a good polish and a good cut. The stone's sub adamantine lustre, which is one below that of a diamond, has helped push its sales world over.
Not only are these stones lustrous and spectacular, they are also phenomenal and by that we mean Sapphires actually display the Star phenomenon called Asterism seen in a few gemstones. Star sapphires are the most common of all stars seen in Sapphires and are caused by rutile needles that intersect at angles parallel to the faces of sapphires crystal structure. This means it makes 90° and 120° angles.
Rutile is an inclusion seen within a Sapphire. Inclusions are completely enclosed within the gemstone, which is what gives each stone its individual characteristic. When rutile is present in large quantities and reduces the transparency of the stone, it is called silk and this is what it looks like. Who would not want to see something as beautiful as silk in their gem?
The oldest recorded sapphires originated from what was called Ceylon, known today more commonly as Srilanka. The country is still, to this very day renowned for its high quality gems. Other Sapphire producing countries are Burma, Madagascar, Brazil and Tanzania to name a few.
You have also undoubtedly heard about the legendary Cornflower Blue Sapphires that originate in our very own country in the state of Kashmir. These stones are so popular for their mellow hues; "Kashmir Sapphires" has almost become a trade term used to mislead naive customers. Kashmir stones gained their popularity because of the soft royal blue appearance the stones have. These stones get this appearance from the inclusions within that scatter the light and are visible only under magnification. The versatility of the colour blue is so popular that when coupled with a velvety softness the stone will undeniably take your breath away!
Inclusions have always caught our attention at KuberBox and require an in-depth explanation, which we will cover in one of our blogs to follow, so keep watching our blog for more news. But for now here's a glimpse into some of the most interesting inclusions seen in Sapphires.
Fingerprints are one of the most common inclusions, which are actually liquids, which have been put under pressure that appear as fingerprints spread across the gem. They can also crystallise in the growth process leaving behind small crystals within the fingerprint. A good indication of a natural sapphire is the fact that fingerprints will always occur in flat planes rather than breaking multiple planes as they do in synthetics.
Growth bands are bands that follow the growth structure of the crystal and in Sapphires they form in an overall hexagonal shape. These bands occur in different intervals during growth, which is why there are differing gaps seen between each band. These bands can also offer colour to the stone.
Crystals are common inclusion seen in Sapphires. They are often identified as Zircon but can be any mineral that was facilitated to grow in the same environment as sapphires. Sapphires also have what are called negative crystals, which are as its name suggests, gases that get trapped. These gas bubbles have angular faces and appear as crystals.
Sapphires are very rare gem when seen in a good colour range. This is why you will often see sapphires cut in different shapes or have facets on the pavilion in different angles and sizes because cutters try to retain as much weight from the rough.
When you are buying any colour of Sapphires you should always be weary about the readily available synthetics slithering around the market. These stones although might appear to be good copies can be easily distinguished by a gemmologist. At KuberBox you have nothing to worry about as we get all of our stones certified from reputed international laboratories. Our sapphires are all natural and ethically sourced and we can vouch for their authenticity. Synthetic stones can be replicated in any colour and are done so in a human induced environment.
Heat treatment of Sapphires and Rubies is a commonly practiced method used to improve the colour of the gems. It has also become an accepted treatment in the industry, which can better the colour of gems to a considerable amount. Although acknowledged it must be disclosed to clients when selling treated or modified gems.
Another commonly seen treatment is the filling with dye infused fillers. This treatment is not openly accepted and has recently been referred to as "composite stones". The filling is heated and filled in heavily fractured stones reducing the visual effect seen by these fractures making the stone more saleable. Although easy to detect, one needs a 10x magnification to be absolutely sure.
So, are you intrigued? Do you need more reason to buy a sapphire? If you are confused and don't know what type of jewellery you are looking for, we at KuberBox along with our jewellery experts have put together a collection of sapphire studded jewellery for you to browse through and take your pick. Our September Sapphire page will take you through some of our best sellers and favourite designs so you can make the right choice when choosing your jewellery.
Do get in touch with our team at [email protected] who will do everything we can to help you find the gemstone you deserve this month coupled with some beautiful diamonds set in stunning jewellery.
Tell us what you're looking for, because we are listening to each of you.
A Sapphire This September? #BirthStone
by
Chantelle
Comments
comments