7 Best Gold Rakhis For Your Bhaiya
Reading Time:
4
minutes
As a sister, you would always want the rakhi that you tie on your brother's wrist to be the best you can find. Because he has always done the same for you. Because he has always found ways to put a smile on his little sister's face. Because there's no relation he treasures more than the bond with you, his younger sister. And Rakhi, since it is the festival that celebrates this unique brother-sister bond, it's very close to him. Whether we agree or not, but I certainly believe that the ones who have siblings are lucky, as siblings do make you a better person.
So behena, have you thought of anything yet to make this Raksha Bandhan special for your bhaiya? If no then read on because we have basically laid it all out here. This is like your cheat code – We are going to tell you what to buy and from where to buy.
Every year during the Raksha Bandhan, we see this big rush towards buying gold rakhis. And because so many sisters are looking to buy gold rakhis for their brothers, we kept expanding our catalogue every year. That has led to a huge collection of gold rakhi designs on our website. When you visit our gold rakhi collection page, it's easy to get overwhelmed by the number of options. If you think you can handle that, here's the link to our gold rakhi designs. You can go and pick the one you find most suitable.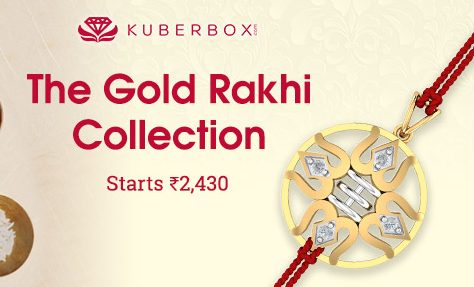 If you are among those who need a little more help in choosing the design, you are at the right place. This blog post's purpose is to give you a really small list of gold rakhis, which has been curated by our whole team. While curating, we have paid attention to some important things like –
The list should cover items from all price ranges
It must be versatile in design
It must be a bestseller
It's a hidden gem that most people have missed
Multipurpose gold rakhi or not
Without further delay, let's get started with our top 7 gold rakhis (in no particular order)
1. Gold Swastika Rakhi – The 2017 Bestseller
This dainty encircles swastika rakhi in plain gold, with dots that appear to be diamonds, went on to become our bestseller for the year 2017. Most of our customers bought this rakhi because of its affordability and its traditional design.
[magento store="1″ sku="RA2013″ prefix="INR " suffix="" title="h8″]
Check out other Swastik Gold Rakhis Here
2. Aum Gold Rakhi – Going to be a 2018 Bestseller
Learning from the previous year's bestseller, in 2018, we launched this Aum Rakhi – similar size, similar weight and similar price. To date, it has been selling like hot cakes in 2018 and we expect it to be our bestseller this year. The design comes out beautifully and the Om sign is as crisp as it gets.
[magento store="1″ sku="RA2038″ prefix="INR " suffix="" title="h8″]
Check out our other Om Gold Rakhi Designs here.
3. Om Ganpati Rakhi cum Pendant – Religious Rakhi cum Pendant w/ great design
This gold rakhi works for more reasons – its beautiful design, the affordable price tag, religious motifs of Ganesha & Om and it's multipurpose tag. It can be used as both Rakhi and pendant.
[magento store="1″ sku="RA2004″ prefix="INR " suffix="" title="h8″]
Check out other Ganesha Rakhi Designs on our website
Check out other Rakhi cum Pendant Designs on our website.
4. Personalized Initials Rakhi – Customize It with Bro's Initials
Whether you are a fan of name jewellery or not (btw, we make really good customized gold cufflinks as well), we are certain that our personalized initials rakhi will be something that you will like. With ease, you can order a rakhi bearing either yours or your bhaiya's initials.
[magento store="1″ sku="RA2004″ prefix="INR " suffix="" title="h8″]
Check out more Personalized Gold Rakhi Options
5. Le Moustache Gold Rakhi cum Brooch – Cool New Accessory
This is something which can easily become your brother's next big obsession. A rakhi pendant that can also be used as a brooch. The moustache rakhi has a smooth surface finishing and all you need is a safety pin to wear it as a brooch.
[magento store="1″ sku="RA2015″ prefix="INR " suffix="" title="h8″]
Check out other Quirky & Fun Gold Rakhis
6. Modern Gold Rakhi Pendant – Great Design
Unquestionably a gold rakhi design with great aesthetics and appeal. This motif based gold rakhi has concentric square hoops, all within micrometres of each other. Then at one corner, the square is studded with diamonds.
[magento store="1″ sku="RA2005″ prefix="INR " suffix="" title="h8″]
Check out more Contemporary Motif Gold Rakhis.
7. Om Trishul Diamond Rakhi – The real wearable rakhi pendant
This rakhi design says it loud and clear – that I am not just a great rakhi but an even better pendant. When you gift something to your brother, you'd want him to use that later on. This rakhi is that. With such good design and finishing, while being a masculine design, this Rakhi is bound to be loved by him & everybody.
[magento store="1″ sku="RA2012″ prefix="INR " suffix="" title="h8″]
Check out our other Shiva Gold Rakhis.
That's the end of your curated list of 7 Top Gold Rakhis for your elder brother. If he is married, the pendants can well also be worn by his wife later on. If that's not all, the KuberBox Jewellery comes with hoards of benefits like – 30 Days Free Returns, Lifetime Exchange, 1 year Free Service & Free Shipping. You can use any mode to make the payment. So don't wait now, order away –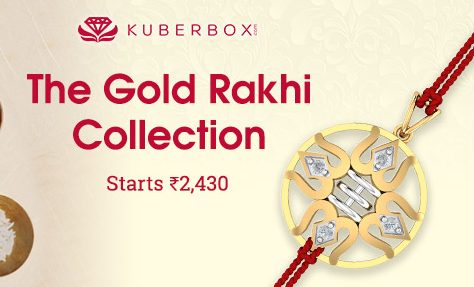 7 Best Gold Rakhis For Your Bhaiya
by
Shaila
Comments
comments