5 Popular Diamond Mangalsutras of 5 TV Serial Queens – Tv Actress MangalSutra Desings
Reading Time:
6
minutes
Table Of Content
30 Second Summary
Deepika Padukone wore a diamond-shaped solitaire mangalsutra.
The price estimate of 20 Lacs rests on the assumption that the Mangalsutra has one large diamond of big size.
But when we use smaller diamonds to make a cluster that big, the cost comes down drastically to under 1 Lacs.
Regardless of the cost of what she wore, all you need to know is that you can get something like that for much less.
For hundreds and possibly thousands of years, a Mangalsutra has been one of the most remarkable jewellery adorned by married Indian women. While Mangalsutra is the foremost, there are four other symbols of marriage that an Indian woman generally wears to symbolise her marriage these include – Toe Rings, Kumkum, Bangles and Nose Ring. Of course, this practise is more widespread in the Hindu religion than in others. That said, Mangalsutras have been immensely popularised by some uber-romantic Bollywood movies and more so by the wide array of daily soaps that air on the Indian Television!
Before we delve deeper into the world of the exquisite piece of jewellery that a Mangalsutra is, let us understand its significance first! The word 'Mangal' implies 'holy', while 'Sutra' refers to 'thread, thereby implying that a Mangalsutra is essentially a Holy Thread that binds the Groom and Bride in a lifelong relationship. Since Indian TV Serials are exceptionally inclined towards exhibiting the sanctity of love and marriage, Mangalsutras have long been a huge part of the lead actresses' ensemble and continues to be. In fact, that is precisely what we will be taking a closer look at – Top 5 Diamond Mangalsutra Designs worn by the leading ladies of the Top 5 Indian TV Serials!
1. Tv Actress Mangalsutra Designs – Mouni Roy | Character – Naagin (Shivanya)
There's no doubt about the fact that the brilliant actress Mouni Roy has all it takes to have the viewers wanting more – right from her stunning looks to her brilliant acting, from her infallible demeanour to her charming persona! And, as if to add to her already strong screen presence, the costume designers for Naagin, airing on Colors TV have made sure that she wears the most breath-taking jewellery possible. Not only can she be seen flaunting some incredibly designed danglers but she's almost always wearing a dainty Mangalsutra with a studded with a scintillating solitaire.
If you too have been on the lookout for a Solitaire Mangalsutra that makes you look as remarkable as Mouni Roy herself, then we insist you check out these incredible Diamond Mangalsutra designs from KuberBox –
Precious Solitaire Mangalsutra | Rs. 17,300 onwards
Solitaire Mangalsutra | Rs. 50,000 onwards
Deepika Solitaire Mangalsutra | Rs. 51,000 onwards
Of course, it isn't just Mouni Roy's character that wore this stunner in Naagin but also Surbhi Jyoti's!
Moreover, numerous others also styled their TV avatars with a Solitaire Mangalsutra for instance, Ishqbaaz's Srenu Parikh as well as Surbhi Chandana!
DID YOU KNOW?
The Solitaire Mangalsutra not only rules the Indian TV Industry but has also been a mainstay amongst the Bollywood stars! In fact, the scintillating Sonam Kapoor, the suave Samantha Akkineni and the dazzling Deepika Padukone, all opted for a Solitaire Mangalsutra for their wedding ceremonies! So much were we in love with Deepika's choice of the glamorous Mangalsutra that we couldna help but discuss the same in great detail on our blog – something you'll definitely want to read!
2. Tv Actress Mangalsutra Designs – Surbhi Chandana | Character – Annika Oberoi
Whether you are an avid viewer of the show Ishqbaaz on Star Plus or have just seen a few glimpses of the same, we can bet on one fact – you have fallen in love with the way actress Surbhi Chandana carries herself. For all we know, she's the perfect portrayal of what a modern-day Indian woman looks like. In fact, it wouldn't be wrong to call her a go-to icon for that contemporary Indian look that we women aim for, and all of that while always sporting some awe-inspiring Diamond and Gold Mangalsutras!
Before we move on to offer some exciting design inspirations from Surbhi's style, here's a quick question for you? What do you prefer – An unassuming minimalistic Gold Mangalsutra Chain or a more opulent Diamond Pendant Mangalsutra?
Whether you like the former or latter, with Kuber Box by your side, you can never fall short of some incredible design options!
If you're someone who is charmed by the simplicity of things, here are some Mangalsutra Chain Designs that you will fall in love with –
Tina Dual-toned Mangalsutra Pendant | Rs. 52,900 onwards
Vilochan Kodi Mangalsutra | Rs. 27,000 onwards
And if you have your eyes set on the gleefully rich Diamond Manglasutra, we bet this design will entice you –
Nayantara Mangalsutra |Rs. 17,000 onwards
3. Tv Actress Mangalsutra Designs – Rubina Dilaik | Character – Soumya Singh
Present-day Indian TV Serials are doing an excellent job at breaking stereotypes and offering a fresh perspective on things, which is precisely why the Colors TV Serial – Shakti, Astitva Ke Ehsaas Ki, has caught the attention of the audiences. Portraying the transgender community and how they interact with others in society, while fighting for justice, the serial has been brought to life by Rubina Dialik who plays the protagonist Soumya Singh. While there are umpteen aspects about Soumya that make her simply astounding, we are almost always amazed by her mighty long Mangalsutra!
If you too are willing to own a Mangalsutra that is as beautifully long and as heavily doused in Gold as Rubina's character then wait no more before you visit us at https://www.kuberbox.com/customized-jewellery-india.html and our competent designers will be more than happy to create a customised Mangalsutra for you!
4. Tv Actress Mangalsutra Designs – Shivangi Joshi | Character – Naira Singhania
If there's one contemporary TV serial whose popularity has transcended borders with the utmost ease, and that has managed to woo its audience for more than a decade, it has to be Yeh Rishta Kya Kehlata Hai of Star Plus! Its current protagonist, actress Shivangi Joshi has been successfully portraying the oh-so-charming yet bold character of Naira Singhania with the utmost flair. And while we love seeing Naira in her westernised avatar, we simply cannot get enough of her delightful Indian look!
And if you have seen her in the serial, we bet you would have gone head over heels for her minimalistic yet opulent Diamond Mangalsutra Design! Truth is, we have been too, which is why our designers at KuberBox curated the exact same piece for you to rejoice in. Want in? Here it is!
3-Piece Solitaire Mangalsutra | Rs. 92,000 onwards
5. Tv Actress Mangalsutra Designs- Jennifer Winget | Character – Maya Jaisingh
Maya Jaisingh, an internationally best-selling author is woefully obsessed with her husband who leads to the downfall of their loving relationship and eventually their marriage! But, that's the only unlikeable aspect of actress Jenifer Winget in the show Beyhadh that airs on Sony Entertainment Television. Everything else is simply awe-inspiring. Right from her rich ensembles to her choice of exquisite jewels, from her astounding makeup to her extraordinary flair we are impressed with every aspect of her being, and more so, with her dazzling Mangalsutra!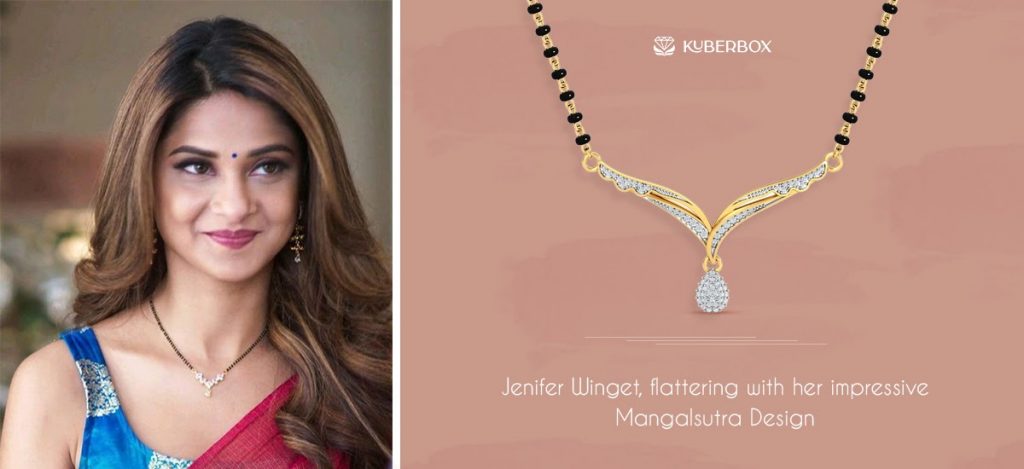 If you too have been flattered with her impressive Mangalsutra Design, you can now order the same, only with KuberBox!
Series Solitaire Mangalsutra | Rs. 28,000 onwards
Abhyaasa Mangalsutra | Rs. 23,000 onwards
At KuberBox, we understand the significance of each piece of jewellery not only from a style perspective but also from a religious standpoint. Hence, we leave no stone unturned to bring you a special range of ornaments, especially those related to your wedding ceremony – from Mangalsutra to Bangles, from Rings to Bridal Jewellery, and everything in between. For all you know, our designers can help complete your look in the most stunning manner possible! Right from intricate designs to fine craftsmanship, from the use of pure gold to that of valuable diamonds and precious gemstones – KuberBox's Bridal Jewellery has it all.
So, wait no more before you browse through our astounding collection of Diamond Mangalsutra, Gemstone Mangalsutra, Contemporary Mangalsutra, and Mangalsutra Chains. No matter your ethnicity – North Indian or Andra Bottu, Goan or Maharashtrian, Tamil Thali, Kerala Thali, or Kannada, at KuberBox you can get them all, without any fuss.
5 Popular Diamond Mangalsutras of 5 TV Serial Queens - Tv Actress MangalSutra Desings
by
Team KuberBox
Comments
comments